Arts & Entertainment
Fitz & the Tantrums Turn New Noise Old School
Saturday's Packed Show Brought Motown to Velvet Jones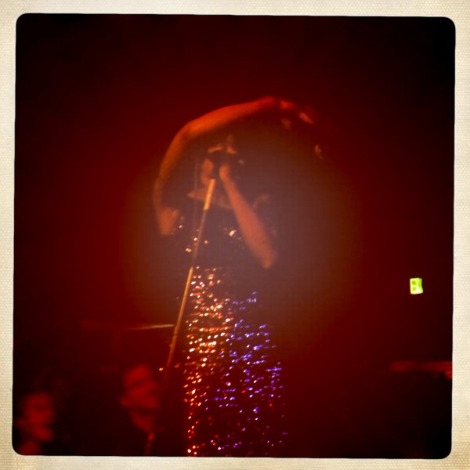 From the second that retro soul practitioners Fitz & the Tantrums hit Velvet Jones's stage on Saturday, their Motown style and vintage sound sent concertgoers on a pop music voyage back to the time of Stax Records and the Shirelles.
As reminiscent as the group's music and look may be of the 1960s and '70s, this sextet—vocalist Michael Fitzpatrick, vocalist Noelle Scaggs, organist Jeremy Ruzumna, saxophonist James King, drummer John Wicks, and bassist Ethan Phillips—offered a distinct and funk-filled set. Things kicked off to an immediately exuberant start with the floor-stomping number "Don't Gotta Work It Out."
Although Ruzumna's thick vintage organ and King's smooth soulful sax took precedent on the popular tracks like "Pickin' Up the Pieces" and "Breaking the Chains of Love," Fitzpatrick and Scaggs's dueling, playful onstage relationship proved to be the supercharged element in the mix. Ultimately, the wordplay and vocal sparring between these two is what makes Fitz such a fun spectacle to watch live, and Saturday's showing was certainly no exception.
While Fitzpatrick swayed with every oozing chord of Phillips's bass during "Tighter," Scaggs's aggressive vocalizing worked as a contrasting force to the song's mid-tempo progressions. Clad in sparkles, Scaggs remained at the center of the crowd's undivided attention as she shimmied, clapped, and encouraged her admirers to emulate her signature strut. As Fitzpatrick and Scaggs tossed their voices back and forth, intuitively sensing the other's next move on the clap-propelled "L.O.V.," it seemed impossible for the audience to resist their enthusiasm.
In the culmination of their set, which seemed to come all too soon, Wicks set the pace for a groove-filled rendition of The Eurythmics' "Sweet Dreams." In true Tantrums fashion, Fitz and Scaggs led an infectious call-and-response-inspired chorus that had the entire crowd up in arms.
The Tantrums' incredible live reworkings of the compositions on their debut album, Pickin' Up the Pieces, are so perfect and full of conviction that it's hard not to call them timeless—and just as genuine as their musical touchstones.