Books
Reclaim Your Life by Carole Bennett
Santa Barbara-based Counselor Publishes Book for Friends and Families of Alcoholics and Addicts
Author, treatment counselor, and Montecito resident Carole Bennett learned her way around the topic of her new book, Reclaim Your Life: You and the Alcoholic/Addict, the hard way—by direct personal experience. Bennett was riding high as a successful Los Angeles talent agent, representing many top television writers when her then-husband, himself a Hollywood creative type, began to spiral into a more and more difficult-to-manage dependency on alcohol. Add to that volatile mix a stepchild who was living at home and addicted to heroin, and an adopted daughter with nascent substance abuse issues, and Bennett was suddenly forced to confront the painful realities of alcoholism and addiction close-up. The stakes were high, and the process of extricating herself from the emotional wreckage of this dysfunctional family took years. Moving to Santa Barbara after her divorce, Bennett sought further clarification through study and a career change, earning an MA in clinical psychology and beginning her career as a counselor at the Salvation Army's Adult Rehabilitation Center, a male-only unit that takes people in recovery on a six-month basis and provides them with the support they need to reenter society.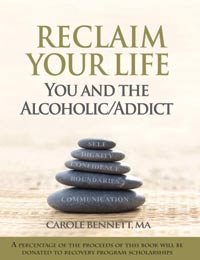 Now, with nearly a decade of counseling work behind her and worlds of life experience to draw from, Bennett is reaching out to a broader audience and offering assistance in the form of a book to those who, like herself, have suffered as the often-silent co-victims of alcoholism and addiction. While the 12 steps-based Al-Anon organization has been offering assistance to this population for 55 years, the literature devoted to the delicate task of calibrating your own behavior to that of an addict or recovering addict remains remarkably slight, especially in contrast to the large number of volumes devoted to seeking sobriety. Bennett's book combines the best of the 12-step approach with a wide range of other behavior modification and compassionate communication techniques to give those in need of support the kind of one-stop survival manual that, up until now, has been missing from the shelves.
In five well-organized sections, Reclaim Your Life serves up a process that's easy to follow. Beginning with a shorter section on identifying and understanding the alcoholic/addict in your life (less easily done than it might sound, and a crucial first step), the book goes straight to the heart of the matter with a long sequence detailing the various techniques necessary to communicate with an alcoholic/addict and to create and maintain the boundaries necessary to help the person in need and to "reclaim your life."
It's in this section on communication that Bennett's writing really shines. Years of evaluating scripts and negotiating contracts have left her a sharp, hard-nosed purveyor of genuine wisdom regarding how to stay on the right side of the good boundaries line. Her list of recommended responses for people who feel they are being manipulated emotionally contains years of collected wisdom in the space of just a few lines, and the advice, which is to limit the degree to which you are engaged by rhetorical devices designed to trap you in unhealthy or "no-win" conversations, is universally valuable. Each of Bennett's chapters ends with a relevant quotation, and the remark from John C. Lilly that closes this one speaks volumes: "You don't have to suffer continual chaos in order to grow."
With clear examples drawn from recent cases, logical steps to take, useful scripts to learn, and an armload of new frames with which to reimagine and revise a devastating life-picture, Reclaim Your Life offers new hope to those who have been frustrated or disappointed by the lack of sophisticated literature available to the friends and families of the alcohol- and drug-dependent. Like the kind of powerful, positive life relationships it promotes, Reclaim Your Life, as good as it is now, will become an even better book as it matures, collecting friends and admirers while providing advice and relief to those in need.