It takes a mighty band to successfully close out any music fest, let alone a three-day, multi-venue musicpalooza like New Noise. Lucky for us, then, that Saturday saw two amazing weekend-closing headliners: Fitz & the Tantrums at Velvet Jones and Saint Motel at SOhO. But before we even go there, a recap seems necessary.
In between its Thursday night kickoff with Dr. Drew and Saturday's killer late night rock parties, New Noise 2.0 gave us two-and-a-half of the busiest music days Santa Barbara has seen in a long time. In between Friday and Saturday's non-stop panel discussions (which founds eager musicians and fans geeking out — and taking notes — on the state of the industry), the fest's Pianos on State were playing host to all number of ivory tickling amateurs and pros.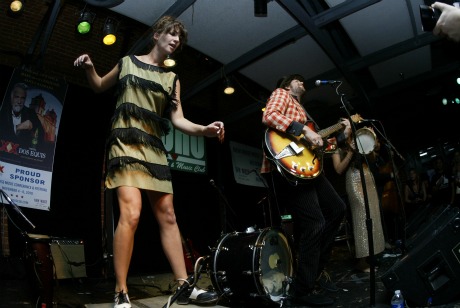 And come nightfall, the tunes just kept on rolling, thanks in large part to deejay Peanut Butter Wolf. His picturesque sunset set from atop the Canary rooftop was one of the funkiest and swankiest moments of the weekend, and part of a party that will not soon be forgotten. Later, Friday night's NN-affiliated Massive Attack/Thievery Corporation show was one of the most hyped we'd seen all season. And the scenes at Velvet Jones and Whiskey Richards post-Bowl were not all that different. While Velvet hosted punk-gone-country players Throw Rag, Whiskey was packed to the gills for former S.B. boys Dead Country and L.A. shredders Voxhaul Broadcast. Not to mention that earlier in the night, soon-to-be-signed folkie experimentalists Honeychild brought the Whiskey crowd to rapt attention with one of the most unexpectedly awesome sets of the weekend.
For those who bounced back quickly, Saturday day brought more impromptu piano jams throughout downtown, as well as a whole lot of heated discussion within the Canary's Riviera Room, thanks to keynote speaker (and Warped Tour founder) Kevin Lyman. And by the time the eight o'clock hour hit, it was out on the town again. Muddy Waters Café teamed up with KCSB 91.9 for a showcase of epic proportions, featuring Moonlight Trio, Twenty Hands High, and DJ Vika. Up the road a-ways, Whiskey Richards welcomed powerhouse trio Nico Vega, Killola, and S.B.'s Verna Beware.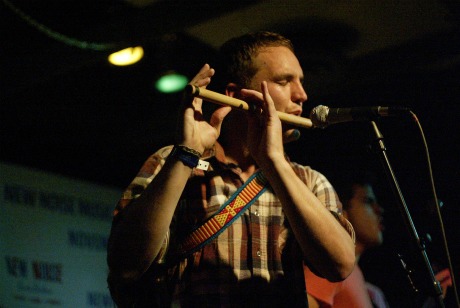 Meanwhile, SOhO was approaching the New Noise finish line with a whopper of a bill. Vegas spawn Imagine Dragons dished up their brand of musical homage to the Killers; Santa Barbarans Gardens and Villa channeled some seriously Prince-inspired funk; He's My Brother, She's My Sister went the neo hippie folk route with a tap dancing percussionist, and fell delightfully somewhere between Ed Sharpe & the Magnetic Zeroes and Tilly & the Wall. And at the end of it all, in spite of a slimming crowd, Los Angelenos Saint Motel brought the thunder, dishing up a strikingly loud — yet undeniably melodic — set complete with projections, floor shaking drums, and a whole lot of fancy pedal work. It was more than a solid sendoff to a great second year, it was a prime indication that New Noise has its ear to the ground. And that S.B. has now seen firsthand what the future has in store — musically speaking, that is.