News
Homeless Committee Reconvenes
Formed in Response to Casa Esperanza Criticism and Homeless-Related Crime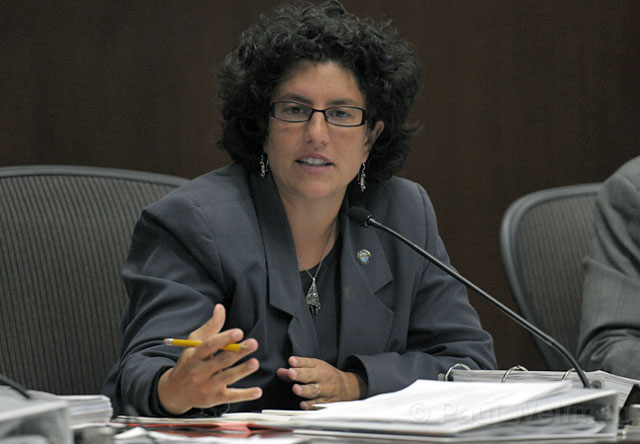 In response to growing criticism of the Casa Esperanza homeless shelter and homeless-related crime and inconvenience, Santa Barbara Mayor Helene Schneider dusted the mothballs off the city's subcommittee on Homelessness and Community Relations, appointed Councilmember Bendy White to fill the vacancy, and ordered it back in business. Among other things, the subcommittee has been charged with exploring the issue of hunger throughout the South Coast.
In recent months, criticism has mounted about the free lunch program offered at Casa Esperanza to shelter residents and nonresidents alike. Director Mike Foley estimated that up to 150 of the 200 free lunches Casa Esperanza serves a day go to people not staying at the shelter. Foley argues the free lunch program has been invaluable building trust with street people otherwise too distrustful to enter any rehab or social service program. Critics counter the free lunch program has been an "attractive nuisance" drawing "opportunistic vagrants" to the neighborhood.
Whether the reinvigorated subcommittee will be able to head off community unrest about homeless people remains to be seen. For now, City Attorney Steve Wiley has advised the City Council that they can't legally reopen the shelter's conditional-use permit — as members of the newly formed Milpas Community Association had sought. They argued that their neighborhood has been asked to absorb more than its fair share of the social burden associated with homelessness. Foley has expressed a willingness to suspend the lunch program, but only if and when a new site is secured. Members of the Planning Commission agreed, but wondered what would happen if the homeless went elsewhere throughout the city. The problem, they said, was regional in scope and could not be addressed by any one community or any one neighborhood. Agitation about the homeless is hardly restricted to Milpas Street. The Downtown Organization and the Chamber of Commerce will be holding a joint meeting to discuss the matter, arguing that street people are bad for business.
The council subcommittee was brought into existence two years ago over similar concerns and, in response, drafted a 12-point action plan. That included the passage of a new aggressive pandhandling ordinance as well as alternative giving program — "Real Change, Not Spare Change" — in lieu of giving to panhandlers. To date, these measures have borne little fruit. Foley said no merchants on Milpas Street currently offer customers a chance to donate to the alternative giving plan. And efforts to crack down on liquor stores selling fortified wines and malt liquor by the can have gone nowhere.