News
UC Tuition Jumps Another 8 Percent
Regents' Vote Comes a Year After Fees Hiked 32 Percent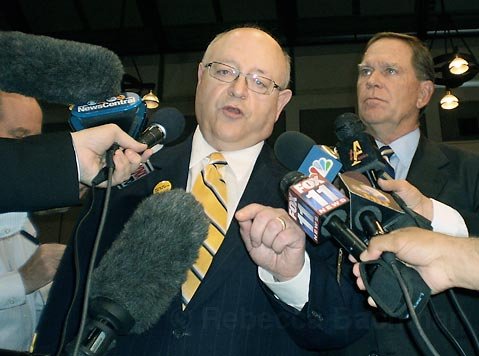 Offering what one UCSB professor described as evidence that "they don't actually have any idea what they're doing, despite the fancy talk," University of California Regents voted last Thursday to increase tuition by eight percent for the 2011-12 school year. The 15-5 vote means UC students and their families will have to pay $822 more in fees per year, bringing annual, in-state undergraduate costs to $11,124.
"Continued fee hikes are the result of a policy of rationalization and commodification of education that looks pragmatic and is anything but," said English and literature professor Aranye Fradenburg, Ph.D., who has been outspoken in her opposition towards tuition jumps. "High fees price many students out of the market, at a time when it's been widely accepted that diversity is a huge boon for corporate 'human resources.'"
But the move, claim Regents, was necessary to help bridge the 10-campus system's billion-dollar budget gap as state funding is down by more than 10 percent despite steadily rising enrollment and operating costs. The increases are expected to generate $115.8 million annually for the university's operating budget after a portion (33 percent) is funneled into financial aid.
"There is no public university with the quality of research and faculty [available at UC campuses] anywhere [else] in the world," said UC President Mark Yudof. "It's worth what you pay to attend here. It's worth it if you go to a UC medical center." UC, he said, will ask the state to increase its 2011-12 budget by an additional $596.1 million over last year's allocation of $2.91 billion. The UC budget also calls for administrative savings of $101.1 million to be worked out through operating efficiencies.
To help offset some of the concern and shifting fiscal burden — the hike comes almost exactly a year after the Regents voted to increase tuition by a staggering 32 percent — financial aid opportunities for low- and middle-income California students were also expanded during last week's vote.
The UC Blue and Gold Opportunity plan will now cover all fees for financial-aid eligible California undergraduates with family incomes up to $80,000, as opposed to the current $70,000 ceiling. In addition, the university will provide eligible students with grants to cover the 2011 fee increase for one year if their total family income is below $120,000. About 60 percent of UCSB's 24,000 students received some sort of financial aid last year, said a campus spokesperson.
UC officials expect that the expansion of financial aid, combined with expected increases in Cal Grant awards, will provide enough funding to cover the fee increases for approximately 99,000 students — 55 percent of the system's 181,000 undergraduates.
The Regents' majority reportedly wasn't happy about making what it felt was an unavoidable move, but its members explained the additional tuition hike is a necessary evil if the UC system wants to continue operating on its current, world-class level. "Our job is to face reality," said Regents Chairman Russell Gould, referencing the financial challenges for both the university and the state, which has a forecasted $25.4 billion deficit.
"It's clear the Regents had a tough decision," said Gould. But, he continued, the university "is not out of the woods. We face the threat of mid-year state cuts and certainly cuts next year. The faculty, staff, and students all have to work together for solutions."
Leslie Sepuka, a spokesperson with the Office of the President, said Yudof is well aware of people's concerns and that they should email him if they have questions about financial aid qualifications. "We never wanted to be here," she said. "The president will be the first to say to students that they should be upset. He's upset."
Sepuka, though, said even with increasing fees, paying for admittance into a UC school is a "relative bargain" in comparing costs with other states' school systems. "If you are a junior in high school and didn't know the [fee increase] history," said Sepuka, "you would just see our prices are comparable and sometimes cheaper."
While Thursday's vote didn't see the large protests that characterized last year's, 13 people were arrested outside the Regents' meeting up in San Francisco. The UC San Francisco police chief called the crowd "angry and unruly and aggressive," reported the Los Angeles Times, and he said some protesters threw barricades and other objects at law enforcement personnel.
Four officers suffered minor injuries during the clash, and about 15 protesters were purportedly nailed with pepper spray. At one point, an officer who was who was allegedly hit on the head with his own baton pointed his gun at the protesters.
In an email sent to The Independent in the wake of the vote, Fradenburg voiced her worry over what higher tuition costs will mean not only for the students but also for their future employers: "Courses of study are judged by the degree of 'employability' they appear to confer, at a time when study after study has demonstrated that students with 'vocational' majors fare less well in their careers than liberal arts students trained by their employers after graduation," she wrote.
"The students who do best in law school," she went on, "are classics, modern languages, and mathematics majors. Diversity — nurturing access to higher education regardless of class, ethnicity, gender, sexual preference, religious preference, and political views — gives you the best possible choice of employees. Smart kids who communicate well, know how to argue a point, and how to analyze one; they make more successful security experts than do those who major in the latter, because they circulate information really effectively."
"The Regents have it all completely backwards," Fradenburg summed up. "I think they should cease and desist. They don't actually have any idea what they're doing, despite the fancy talk. At least let the next governor screw things up some other way. Meanwhile, give all the kids a chance to get an education without going into debt. At all."