Columns
A Thanksgiving of Violence and Suspense
War Heats Up Between Military Police and Criminal Factions Over Rio's Favelas
"Volta! Volta! Volta! Oviu? Vira e volta!"
Hearing these frantic commands to "Go back! Turn around and go back!" come from exasperated faces up and down the mess of a road stopped me in my tracks. I was walking home from school on a road not known for foot traffic. It winds around one of Rio de Janeiro's most famous photographic backgrounds – a jutting mountain over the sea dubbed Dois Irmãos on account of its two sibling reminiscent peaks, the "Two Brothers."
Seconds later, a phone call from a friend had me following suit. A friend had just warned her that shops around the main entrance to Rocinha were preventatively shutting down. Like the never-ending line of rush hour cars crowding the road, I turned around and went back.
The road I travelled connects Leblon and São Conrado, two wealthy neighborhoods in Rio's southern zone. The part meant to be avoided is the area in between, as the mountain is home to various favelas, including Vidigal and Rocinha, the two biggest. The latter is currently suffering from suspense that multiplies daily and soon-to-come major transformations.
On my walk, naturally, my thoughts bolted to the actions of the day. The morning of Thursday, November 25 had people living in favelas all over the city in suspense. "Will they invade our community today?" we thought. The BOPE (Special Police Operations Battalion, a special forces unit of the state's military police) ended up spending the day in Vila Cruzeiro, a favela in the northern zone of the city. At around 10 in the morning, students at my university here gathered around televisions to watch live helicopter footage of 14 trucks full of police and six military tanks entering the favela. (Tanks had never before been used in such an operation.) As gunshots thundered from the sky and streets, out of guns of police and bandidos (members of governing criminal factions), civilians fled to the safety of their homes to wait out the storm.
A Long History: It's More Complicated Than It Seems
To put it neatly, by the end of November 25, Vila Cruzeiro became the 14th favela to be successfully taken over by Rio de Janeiro's notorious BOPE in their terribly arduous pacification project. Now let me pick apart the air of simplicity suggested in that sentence.
To start, the end of the day came after days of violent drama. Beginning a week earlier, Vila Cruzeiro bandidos that suspected the invasion acted desperately to distract the military police. Bandidos aimed to delay the BOPE's inevitable entrance, which would disturb the relative peace of the community. Forty-seven arrests of Vila Cruzeiro bandidos (many of whom held grenades or other weapons) were made in the preceding days. The night before the invasion, bandidos left the community and set fire to six buses in various areas. Their scattered acts of havoc-wreaking lacked the deflecting effects they desired, and the day left them defeated.
Second, that Vila Cruzeiro holds the number 14 spot in the pacification process timeline isn't saying much. Hundreds of favelas – home turf of around one-third of Rio's people – remain under the control of drug trafficking factions throughout Rio de Janeiro and its sprawling, poor metropolitan area.
Politics within the city's collective drug trafficking web deserve illumination as well. Three days ago, the largest decades-standing factions in Rio were the Comando Vermelho (The Red Command) and Amigos dos Amigos (Friends of Friends). (Others exist and hold vital positions, but CR and ADA, as known by their acronyms, cover most area and hold most monetary and military power.) The two hated each other as much as each hated the police. In fact, they warred here in Rocinha five years ago for a week that community members remember as full of non-stop gunfire and weeks marked by anarchy as hierarchies shifted.
But this week, according to rumor, in desperate response to ever-increasing threats from the BOPE to shut both gangs down, they've started joining forces. The some 800 bandidos that I mentioned in Life Under the Bandidos in late September as comprising Rocinha's gang (under ADA control) has more than doubled recently, as terrified bandidos from pacified hills under both of the rival factions flee to the biggest favela in Rio de Janeiro. "Maybe if all the bandidos from all the gangs in Rio de Janeiro come together on the biggest hill in the city," I imagine them strategizing, "we can maintain some power and income for ourselves." Logically, it's a last resort. Their alternatives are being killed, sent to jail, or subject to filling the rest of their days with extremely low-paying work in extremely poor communities surrounding the city.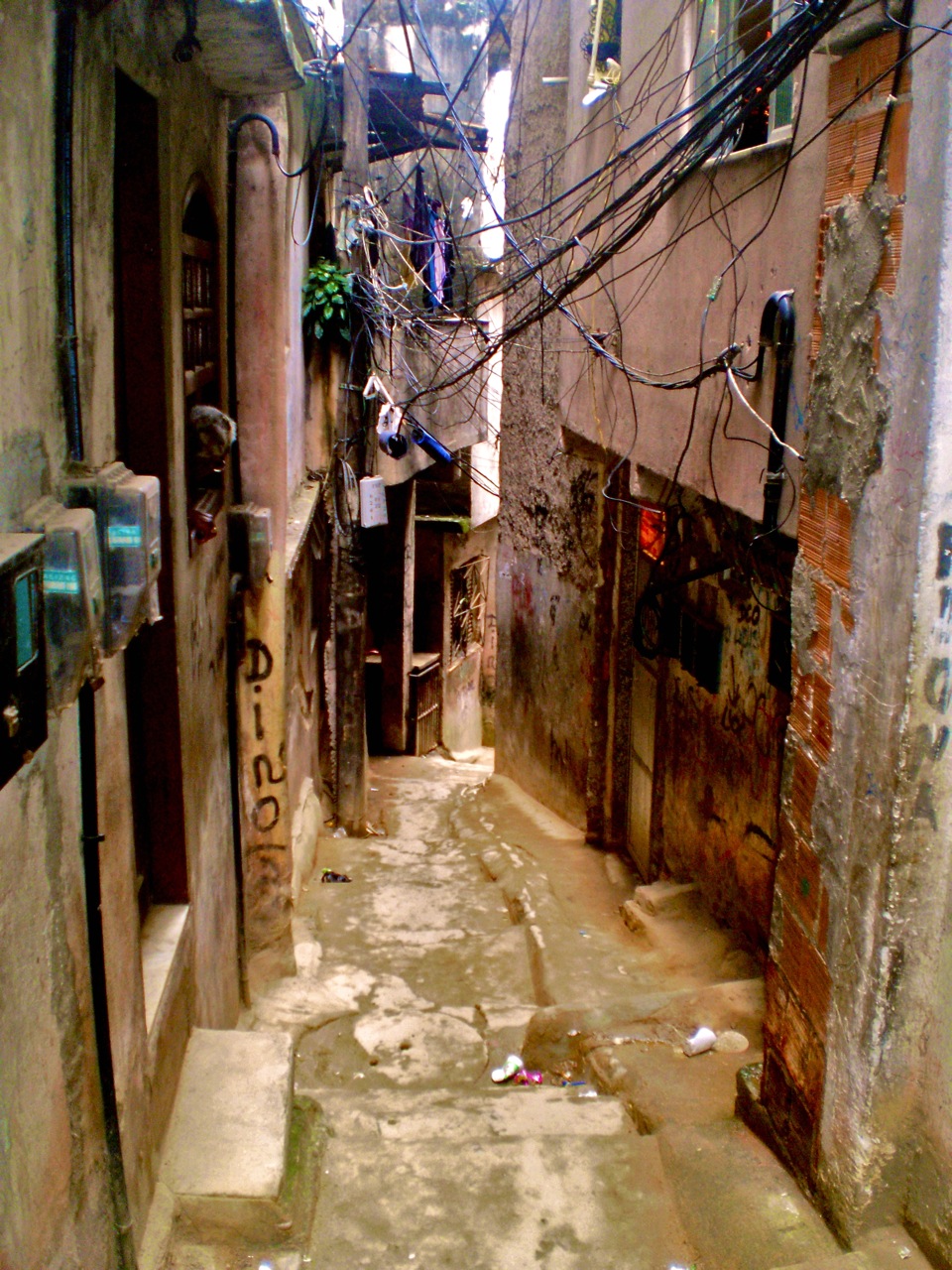 A Forecast of Potential Changes: Current Turbulence Leaves Rio a Mess
Drug trafficking is so deeply tangled in the corrupt state economy that its elimination would leave major voids in basic spots. For instance, tens of thousands of people (former bandidos) would be without income. Interminable demand for illegal drugs would push the trade deeper underground. And the phantom-like political figures that secretly facilitate the movement of weapons and drugs across borders will just become more clandestine than ever.
Like the financial and political leaders of a powerful nation state need war to maintain power and wealth, the Rio de Janeiro state government may just need drug trafficking to maintain "stability."
But even if the BOPE succeeds in wiping out Rio's criminal factions as we currently know them, community members will face a bigger problem: a void in peacekeeping. As I described in "Life Under the Bandidos" in late September, bandidos in favelas across the city have come up with an incredibly effective way of discouraging and punishing crime in the communities that raised them. That the police could simply assume the bandidos' current roll of law enforcement seems a joke. Communities' long history of mistrust of neglectful police, combined with police unfamiliarity with the communities, will inevitably combine in a destructive, backward-bound way. Favelas would go back to being crime ridden. Robbery, violence, rape, etc. would become as common as they were back before drug trafficking factions filled favelas' administrative voids back in the 1980s.
Back to Thanksgiving
So when my walk home was interrupted by the panicked shouting and re-routing of rush hour drivers and a mini parade in the sky of BOPE helicopters, it was naturally to this complicated history and desolate forecast that minds up and down the road leapt. Thanks to news coverage being broadcast on every public television throughout the city, we all knew the BOPE was tied up in Vila Cruzeiro at the moment. But we couldn't help but to panic. If indeed they could be in two places at once – Vila Cruzeiro and Rocinha – we all wanted to turn around and get as far away from possible from Rocinha.
As it turned out, nothing happened. The motives of the BOPE flight over the mountain Dois Irmãos that afternoon are still a mystery. But now that Vila Cruzeiro is down and its bandidos have escaped to other favelas, Rocinha's rumored to be next on the list.
With global pressure to tranquilize the city of Rio de Janeiro before it plays host to 2014's World Cup and 2016's Olympic Games, it's sure to be an increasingly turbulent couple of years.
As for me, I'll be doing my best to stay the hell out of the way (but also to keep my camera in my pocket) until the storm (hopefully) blows over.