Announcement
Jack Johnson Rocks Out Notes for Notes
UCSB-Educated Rockstar Jams with Music Students Before Sold-Out Concerts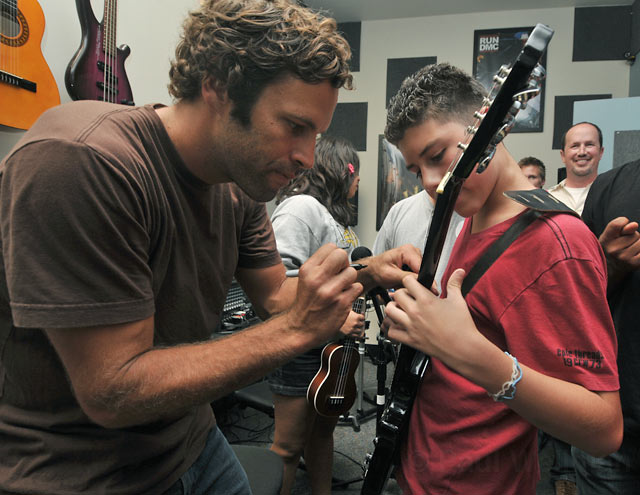 SANTA BARBARA, DECEMBER 2010 — Christmas came early for Notes for Notes this year, when world-famous rockstar Jack Johnson put excited smiles on the faces of dozens of music students on October 12 when he stopped by the Notes for Notes MusicBox in the Santa Barbara Boys & Girls Club before playing two sold-out shows at the Santa Barbara Bowl. He was joined by his keyboardist and Goleta resident Zach Gill, who sings for the popular band ALO, and another bona fide rockstar, David Crosby of Crosby, Stills, and Nash, who lives in the Santa Ynez Valley, also made a surprise appearance at the MusicBox.
Johnson, who went to college at UCSB and lives part-time home in Montecito, spoke to the kids about music making, signed autographs, and posed for pictures. Then, with support from his friend Gill on melodica, Johnson led the students in an hour-long jam session, playing such hits as "Sitting, Waiting, Wishing" with support from the Notes for Notes-trained musicians.
"I had a great time playing with the kids," said Johnson, who has donated proceeds from his past two concert tours to support the organization, which offers kids a place to learn and make music in a professional recording studio environment. "They've got a lot of talent already, but Notes for Notes is certainly helping them hone their skills. We need more organizations like this across the country and world."
Also glowing that day were Notes for Notes executive director and co-founder Philip Gilley and board president Roderick Hare. "How exciting is this for the kids to play with a rockstar?" asked Gilley. "This might be one of the best experiences in their lives." Added Hare, "We're really thankful that Jack continues to support Notes for Notes in such a hands-on fashion. He's truly a man who gives back to his community."
In a double bonus, both Johnson and Gill signed on as advisory board members to Notes for Notes, joining their friend Crosby as well as guitar pickup maker Seymour Duncan, actor Jeff Bridges, actress Carol Burnett, musician Brian Miller, Peter Noone of Herman's Hermits, and Martin Gore of Depeche Mode on the board.
For photographs of this historic event, visit Notes for Notes Facebook page here.
If you'd like to follow in Jack Johnson's spirit of giving and contribute to Notes for Notes this holiday season, see www.notesfornotes.org/Donate_now.html. If you're interested in volunteering, see www.notesfornotes.org/Volunteer.html.
Notes for Notes is a nonprofit organization dedicated to providing youth with free access to music instruments, instruction, and recording studio environments so that music can have a profoundly positive influence in their lives. The organization builds and operates recording studio environments called MusicBoxes that are packed with electric guitars, drums, keyboards, turntables, computers, and software. The first MusicBox was built in the City of Santa Barbara's 1235 Teen Center, the second is inside the Boys and Girls Club of Santa Barbara on East Canon Perdido Street, and the third is soon-to-be-constructed inside the Santa Barbara West Boys and Girls Club on West Anapamu Street.