Theater
Brian Regan at the Arlington
Stand-up Tours with New Album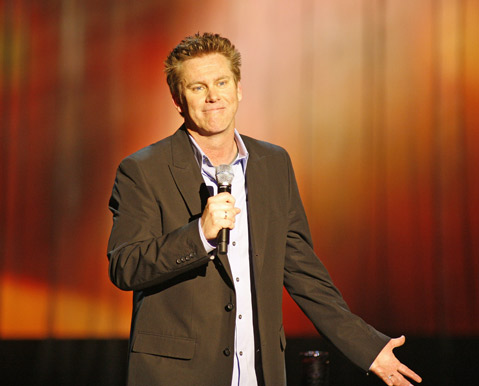 Even among the elite of stand-up comedians who consistently headline big auditoriums, Brian Regan stands out. First he's been touring, as he puts it, "continuously since 1984." And while this isn't quite true—at least not the "continuously" part—it nevertheless indicates how prolific he's been, and how experienced he's become onstage, all without rushing off to chase the sitcom fame dream or congealing into a one-trick pony. And then there's the fact that he does it all without the benefit of what is euphemistically known as "harsh language." And if you're thinking Jerry Seinfeld might be the other big exception to contemporary comedy's "code blue," you're right—and maybe you saw Regan on one of the nights when he opened for Seinfeld at the Arlington in 2005 and in 2006. Whether he's riffing on painfully funny stuff like middle-aged dating or just selling a refrigerator—"This one will keep your food cold!"—Regan clearly gets a kick out of making fun without setting himself up as superior. I spoke with Regan by phone last week from his home in Las Vegas.
You work hard at touring. Do you miss being at home with your family?
Well, let's put it this way. When I'm in my house I wear one of those red and white name tags and its says, "Hi, my name is Daddy!" Seriously though, I'm home more than people realize. Even when you're busy you don't work every night. There are plenty of off dates, and I get to enjoy my wife and kids like anybody else.
Have you been funny since you were a kid?
I was born with material. I just popped out and started making jokes immediately. When I was in the maternity ward the other kids went from crying to howling with laughter.
It's interesting that you would say that about making the other babies laugh, because I always thought you were supposed to be so self-deprecating.
I am too self-deprecating. I can assure you that I am absolutely the best self-deprecating comedian working today. (Pause.)
I grew up in a big family and as a result I had to be funny. My career started as a childhood survival mechanism.
The way you work requires tons of fresh writing all the time. What keeps you going?
It's just a matter of recording and refining on what's amusing to me. I have to constantly replenish the show because that's what gets people interested in coming back. If they thought I was going to do a lot of the same bits as the last time they wouldn't want to come see me again. Once I get a full hour of material laid down I feel like I'm ready to move on to the next thing—in with the new and out with the old. As far as how I develop new stuff, that's why I travel with two tour buses, one for me and one for the test audience. I pop over to the other bus when I come up with a new "knock, knock" joke.
But do you seriously have a test audience of any kind? How do you practice?
I don't really practice except by writing. If you are a working comedian, when it's funny to you, then it should be funny period. But there are times when new stuff doesn't go over. I've found that even in the big rooms I play now, audiences are generally pretty forgiving. They are there to laugh, and they will let you have a few foul balls. It's not like you're a brain surgeon. You know, "Sorry, that was a lousy incision. Let me try another." That wouldn't be okay. But with a bad joke, you'll live to laugh again.
Is it a challenge to be in front of such large audiences every night?
It certainly beats the alternative. Five years ago when I made the transition from the clubs to theaters it opened a new world for me. Not necessarily harder, just different. I love standing backstage and listening to the hum of the room as it fills. It's exciting. I live for it.
What else should people know besides the fact that they should go to the Arlington on Thursday, December 9?
That would be a good start. They can also go to brianregan.com and download my new comedy album. It's called "All By Myself," it's all totally new material, and the only way to get it right now is to download it from my Web site.
4•1•1
Brian Regan is at the Arlington on Thursday, December 9 at 7:30 p.m. For tickets and information visit ticketmaster.com or go to the Arlington Theater Box Office.