News
Das Sworn In
Dives Headfirst Into Governor's Final Proposed Budget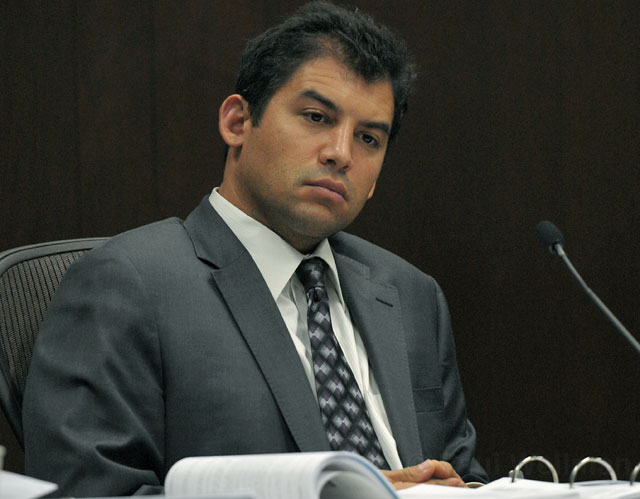 Das Williams was sworn in as Santa Barbara's latest assemblymember in Sacramento — following in the smeared footsteps of his former friend, mentor, and colleague Pedro Nava — where he will immediately confront a $6-billion budget shortfall for the rest of the current fiscal year and a staggering $25-billion projected deficit for next year. "It was a strange feeling," Williams said of his swearing in. At the very moment he and 26 other freshman legislators were being sworn in, Williams said outgoing Governor Arnold Schwarzenegger was sending them copies of the final proposed budget he wants considered during the emergency session that he convened to deal with the state's ongoing fiscal meltdown. "We didn't even have a day in advance to consider it," Williams said. Adding to the weirdness of the moment, Williams said, the state effectively has two different governors — the outgoing Schwarzenegger and the incoming Governor-elect Jerry Brown. "It's going to be very difficult," he said.
An outspokenly progressive liberal Democrat and seven-year member of the Santa Barbara City Council, Williams said the scope of the state's fiscal problems will require both painful cuts and revenue increases. His first priority will be protecting the state's public education funding; local governments, he said, might have to sacrifice to ensure the stability of public education.
Williams won election to the Assembly over Republican opponent Mike Stoker. In the same election, statewide voters endorsed a measure that will make it much harder for state legislators to raid the coffers of local governments. In addition, they approved an initiative that will require voter approval — by a two-thirds supermajority — for new developer fees used to sustain many government programs. While voters have made it harder for legislators to raise the funds deemed necessary for fueling government programs, they also passed an initiative that makes it easier for legislators to approve a budget document.
Williams's ascension to the Legislature was marked by considerable personal melodrama. In the Democratic primary, he had run against Susan Jordan — the wife of outgoing assemblymember Pedro Nava. Up to that point, Williams had been a close political colleague of Nava's and Jordan's, and the primary battle was emotionally intense, as well as financially exhausting. After Williams's primary victory, neither Nava nor Jordan ever endorsed Williams, citing differences over oil policy.