News
Rowse in the House
Council Averts Gridlock; Appoints Paradise Café Owner
For the Santa Barbara City Council, it was the eighth time that proved the charm. Only after seven deadlocked votes did the politically polarized council eventually agree to appoint Randy Rowse, longtime owner of the Paradise Café, to fill the council vacancy created by the election of former councilmember Das Williams to the State Assembly in Sacramento. One of 46 applicants, Rowse's appointment came as a dramatic surprise both to himself and to many of the city hall insiders attempting to handicap the appointment deliberations.
With Rowse's selection, the council will shift decidedly more to the right than it had during the past seven years when Williams was on board. Where Williams was an outspoken progressive populist and Democratic Party activist, Rowse is a declined-to-state downtown business owner active with the Downtown Organization who hosted a fundraiser for unsuccessful Republican gubernatorial candidate Meg Whitman at his restaurant. Rowse said his agenda was to keep Santa Barbara clean, safe, and fiscally sound. During the last council election, Rowse supported two of three members of the council's conservative bloc—Frank Hotchkiss and Michael Self. But he also supported Bendy White, a moderate to liberal Democrat, and part of the council's more liberal faction.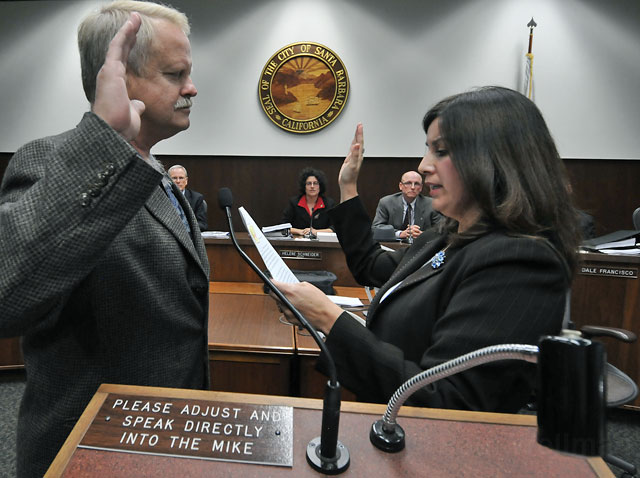 Rowse observed that relations between the feuding council factions have grown increasingly divisive, and expressed hope that he could help "moderate and dial it back a bit." Long active in business and civic affairs, Rowse—who moved to Santa Barbara from West Covina in 1972 and opened the Paradise in 1983—has established amicable working relationships with many city administrators over the years (not to mention elected officials), some of whom frequent his restaurant. As such, he is less inclined to be suspicious and distrustful of their motives than relative newcomers like Hotchkiss and Self. Liberal activists who've lined up on the other side of Rowse regard him as approachable and not doctrinaire. But on the issues, Rowse is clearly more in sync with Hotchkiss, Self, and Dale Francisco, the strategic leader of the conservative faction.
In the past year, for example, Rowse has been an outspoken critic of medical marijuana dispensaries and lobbied actively for the outright ban backed by the conservatives. Williams, by contrast, was one of the most ardent proponents of dispensaries on the council. Where Williams—and a slim majority of the council—argued increased housing densities are essential to provide expanded affordable housing opportunities for Santa Barbara's imperiled middle class, Rowse expressed skepticism that such densities could achieve their desired results and concern that they'd only breed increased traffic congestion. "I don't want to see change for change's sake," he said. Rowse, however, did not support the lower building height restrictions backed most energetically, if unsuccessfully, by the new slow-growth conservative wing.
Over the years, Rowse has served on various committees to provide ample parking for downtown shoppers. When draft changes to the city's General Plan were unveiled that called for the elimination of free parking downtown, Rowse helped lead the charge—on behalf of the Downtown Organization—to kill it. While those plans were not expunged entirely from the text of the proposed new General Plan, they have been included as only a remote future possibility. (That plan has not been approved yet.) Some alternative transportation supporters—and city traffic engineers—have argued the most effective way to discourage downtown congestion is to charge for parking.
Rowse ultimately got the nod at the instigation of Dale Francisco. It was Francisco, after all, who single-handedly kept Rowse's name in the mix as the councilmembers winnowed the roster of 46 applicants down to nine semi-finalists and then to eight finalists. After that, the councilmembers were free to nominate any of the remaining applicants. For the first six rounds of nominations, the conservative bloc unanimously backed Planning Commissioner—and former mayor—Sheila Lodge. Though a liberal Democrat on national issues, Lodge has opposed increased housing densities favored by the "smart-growthers" making up the liberal wing. On the Planning Commission, she cast the sole vote against the proposed plans to change the city's General Plan. Lodge's favor with the conservative faction illustrates just how starkly Santa Barbara's political winds have shifted over the past 15 years. Francisco acknowledged that he and Lodge differed sharply on national politics, but praised her knowledge and experience. Hotchkiss likewise noted that he and Lodge differ on many national political issues, but said their disagreements were so painless as to be "a delightful experience."
The liberal bloc—Mayor Helene Schneider and Councilmembers Grant House and White—could not bring themselves to support Lodge. Instead, they pushed former councilmember Brian Barnwell, current Planning Commissioner John Jostes—an ardent and effective promoter of increased residential densities—and former county administrator John Torell. They went so far as to support David Hughes, who enjoys a reputation as a compassionate conservative. Hughes served as assistant city attorney back in the 1980s and now serves on the Housing Authority. He's also been an outspoken foe of medical marijuana dispensaries. But the conservative faction would not bite. Instead, they dropped Lodge and just as steadfastly backed Rowse.
Councilmember House opined he was looking for someone fresh—like Torrell or Hughes—who pledged not to run once the year left on Williams's term expired next December. Neither side wanted to give any candidate backed by their rivals the obvious advantage that incumbency conveyed. Francisco replied that Rowse had also promised not to seek reelection. After the conservatives withstood successive motions to appoint Jostes and then Hughes—sticking with Rowse—House changed course and nominated Rowse, who secured the appointment with four votes. House's action may cause significant agitation among some liberal Democrats, but he said, "Randy is a fair guy with a moral heart who will help the council make better decisions." The council was under pressure not to succumb to gridlock and not appoint anyone. Before the vote, many councilmembers expressed serious doubt they could get past a stalemate.
Speaking to reporters afterward, a happy and expansive Rowse was less than 100 percent absolute about his lack of future political ambitions, but he came pretty close. "I have zero plans to run in November," he said. "I do not have plans to be a politician."