ACCESSING THE HARD DRIVE 2010: After a few decades into my life as a professional music junkie, a few things have become clear. Firstly, it appears that this addiction/affliction isn't going away after all, any more than this strange, parasitic, and mostly enjoyable vocational road (assuming the blogosphere doesn't completely vaporize the gig). Secondly, the older hopeless music-ophiles get, the more we believe that music is more than just a diversion, but something akin to the meaning of life. Lastly, despite a dense blur of musical encounters in a given space of time—a year, say—the good and memorable stuff bubbles up to the surface of consciousness, accessible in even an overloaded mental hard drive.
FESTIVAL FOLDER: Of the 250-ish music events I caught in 2010, around the world and around the tri-counties, much has drifted into the margins of memory where mushy data is stored and eventually shredded, but the bright spots remain vivid. Through periodic festival travels—avaricious music-seeking missions—certain shows will live on in memory, including my first concert exposure to the Brazilian genius Caetano Veloso at the Copenhagen Jazz Festival, and pan-pop visionary Van Dyke Parks (with orchestra!) at the Roskilde festival. Other highlights: a first-time duet with Bill Frisell and trumpeter Arve Henriksen in Germany's Moers festival big top; vocal mystic Sidsel Endresen in Voss, Norway; Vijay Iyer's trio in Montreal; The Trio (Muhal Richard Abrams, Roscoe Mitchell, George Lewis) at Canada's Guelph festival; and Chris Potter's Underground at Monterey. For an all-around mind-soul bending experience, a trip to Morocco's famed Fez Festival of Sacred World Music rearranged molecules and cultural-spiritual assumptions.
FOLDER 805: But most of my musical travels were around the 805. Once again, the year reminded us of the grand, eclectic pageantry afforded music fans hereabouts. January started out strongly, with mood maestros A.A. Bondy (the rootsy bootgazer whose shows at Muddy Waters and SOhO this year sent me to some magical, melancholic place) and Brad Mehldau's rapturous and rhapsodic solo piano concert at the Lobero. Sure, jazz fans still feel shorted by skimpy offerings (as usual, less than 10 world-class shows all year), but classical music continues its rich bounty (highlighted by CAMA concerts, the Ojai Music Festival, and the Music Academy of the West's summer fest) and indie rock rocks more than ever.
On the downside, the Santa Barbara Bowl season was fairly meek by comparison with better years, but we got more rock indoor theatrical pleasures, including Smashing Pumpkins and Little Feat at the Lobero and a surprisingly amazing show by The Black Crowes at the Arlington. Club Mercy and New Noise kept the indie-rock flow going in clubs, and theaters (i.e., Imogen Heap at the Granada and Joanna Newsom at the Lobero). Suffice to say, for music addicts of all types, the 805 continues to be a fine place to call home, and to hang one's hopes and ears.
Best couple dozen live shows in Santa Barbara, 2010, in reverse chronological order:
Mt. St. Helens Vietnam Band, Muddy Waters Café
Anaïs Mitchell, Hadestown tour, Sings Like Hell series, Lobero Theatre
The Black Crowes, Arlington Theatre
Los Tigres del Norte, Chumash Casino Resort
Bonnie "Prince" Billy, Maverick Saloon
Dresden Staatskapelle, Granada Theatre
Sleigh Bells, SOhO Restaurant & Music Club
Laurie Anderson, Delusion tour, Campbell Hall
Camerata Pacifica's world premiere of Bright Sheng's "Hot Pepper," Hahn Hall
A.A. Bondy, SOhO Restaurant & Music Club
Corinne Bailey Rae, Santa Barbara Bowl
Crooked Still, Sings like Hell, Lobero Theatre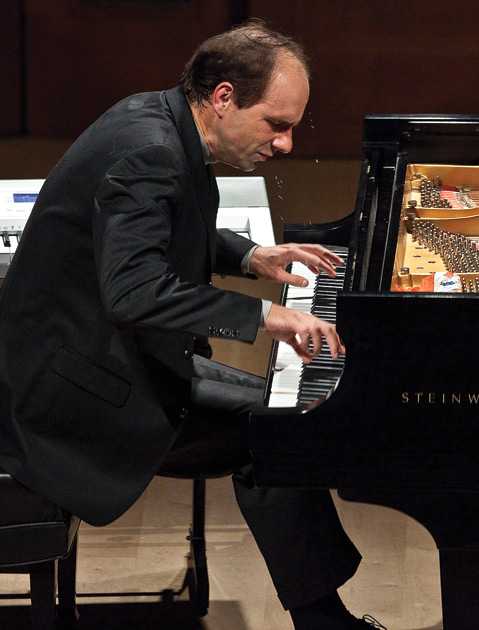 Kinky Friedman, Maverick Saloon
Christopher Taylor, Rzeswki's The People United Will Never Be Defeated and J.S. Bach's Goldberg Variations, Music Academy of the West festival, Hahn Hall
Väsen, Live Oak Festival
Ensemble Modern, Frank Zappa's "serious music," Ojai Music Festival
Pat Metheny, Orchestrion, Campbell Hall
Atoms for Peace, Santa Barbara Bowl
Beach House, SOhO Restaurant & Music Club
Camerata Pacifica, John Harbison's Quintet for Winds, Hahn Hall
Brad Mehldau, solo piano, Lobero Theatre
A.A. Bondy, Muddy Waters
Garrick Ohlsson, all-Chopin recital, Lobero Theatre
Santa Barbara Chamber Orchestra, Webern's Five Movements for String Orchestra, Lobero Theatre
TO-DOINGS: 2011's music calendar summarily kicks up some blues dust, with the Santa Barbara Blues Society's "Member Appreciation" show at Warren Hall on Saturday, featuring Doug MacLeod.