Voices
Can Jerry Brown Save California?
Using the Bully Pulpit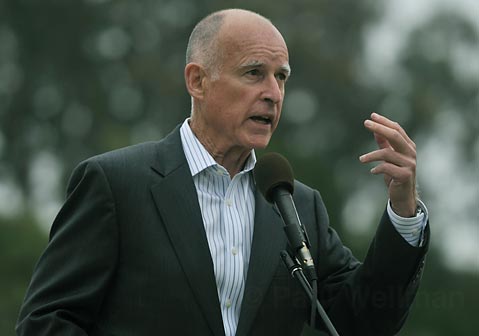 As we begin 2011, the state of California continues to teeter on the edge of financial disaster. Arnold Schwarzenegger had no experience in governance and failed during his seven years in office to resolve the state's fiscal mess. Jerry Brown has years in the public sector and is proactively working to bring the state back from the brink. With his "at this point in my life" attitude, Brown has chosen not to wait, and to use the bully pulpit.
Newly elected politicians start with a period of political capital; the clock has begun ticking for the new governor. Under more traditional circumstances, the governor-elect would have used the weeks before he took office to work with his transition team to create a new administration. However, the condition of the state of California is so grim that Brown appears to have taken charge before his swearing-in on Monday, January 3.
In the view of most political pundits, Jerry Brown is laying the groundwork for a June election that will force voters to decide what level of services they are willing to pay for. At present, his strategy appears transparent. During the November election Brown refused to commit to specific solutions to resolve the state's financial mess except to declare that he would not raise taxes without a vote of the people. Now it seems he is indeed heading in the direction of a June ballot measure.
On December 14, Governor–elect Jerry Brown held his second town hall meeting on the state of the California budget at UCLA. Taking his budget show on the road has accomplished two things for Brown: educating the public as to the state of the budget, and listening to specific concerns and recommendations.
Initiating civil debate and civic dialogue are the hallmarks of active governance. As a retired elected local official I know how important town hall meetings can be. Constituents want their day in court. They want to hear from their representatives and talk about issues that matter to them. Serving as mayor of Oakland (after having been California's governor and attorney general) gave Brown hands-on experience in providing direct services. At the local level it is hard to distance yourself from the people you serve.
The December 14 session focused on education. Power-point presentations by state officials revealed the appalling condition of education in California. Staff-to-student ratios showed that California ranks at the bottom of the 50 states more often than not and never higher than 47th place. Our teacher-to-student ratio places 49th among 51states and Washington D.C. The governor-elect was making his case.
Having four grandchildren in two different elementary school systems, I am painfully aware of the frustrations experienced by parents who choose to keep their children in public schools. Loss of teachers, larger class sizes, elimination of courses, and shorter school years are just a few of the challenges confronting young families.
Many of the media reports focused on the doom and gloom of the presentation, and additional cuts facing school programs. During the question-and-answer period the audience, mostly representatives from educational institutions or unions, pleaded with Brown not to make any more cuts and to give them more local control. But they also offered solutions. The audience was engaged in the dialogue. The head of the state PTA offered her one million members and four thousand schools to support efforts to increase state revenues.
Besides very different personal histories and professional resumes, the leadership styles of Schwarzenegger and Brown are worth comparing. When he took office, Schwarzenegger kept a campaign promise to roll back the increase of vehicle license fees that his predecessor Gray Davis had instituted. It proved to be a financial disaster for California. Arnold was more interested in the grand gesture than resolving the state's financial quagmire. By reversing this fee, the state lost $28 billion in revenue in seven years. Next year's budget shortfall is projected to be just that: $28 billion. Leaving the car tax in place would have filled the gap.
But can Jerry Brown save California? By actively taking the case to the people, Brown is laying out a path for the electorate. It will be austere. (His own grand gesture has been to commit to reducing the governor's staff by 25 percent.) A USC/LA Times Poll shows that Californians want their services but aren't willing to pay more taxes for them. That is no longer a rational option. The California budget can only be balanced by a combination of program and service cuts and an increase in revenue.
It's time to confront the dysfunction of our state legislature with its ongoing gridlock, and the dysfunction of previous governors who played financial shell games, and send a message. Brown will set a course in the coming months, but in the end it will be up to the citizens of California to act. It will be our decision to make.
No doubt a short-term fix is needed, but California must also move beyond the annual financial shoot-out and implement structural and institutional changes. Many proposals and ideas have been offered up to that end. In the long run, that will be the greater challenge for Governor Brown.
With his family's history of governing the state and his own years in government, Jerry Brown must be considering what his legacy will be. California's future depends both on the voters, and on the direction Brown takes after the budget is passed.
Stay tuned for act two.
– – –
Susan Rose served two terms on the Santa Barbara County Board of Supervisors. She has worked for the cities of Los Angeles and Santa Barbara and Ventura County. She is a founding member of the Santa Barbara Women's Political Committee and previously served as executive director of the Los Angeles City Commission on the Status of Women.