Theater
Anti-Bullying Message Steals the Spotlight
DramaDogs Bring Thank You for Flushing My Head in the Toilet to S.B.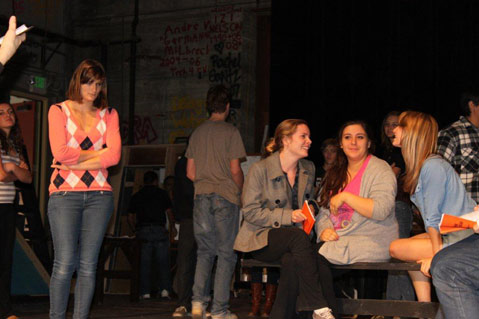 While it's relatively easy to discount the slang, harsh language, and current cultural obsessions of teens as harmless signs of the times, the threats of social exclusion and acts that occur among young people with regrettable frequency are harder to ignore. Every day seems to bring a new story about a teen who has been hounded to his or her limit or beyond by the unbridled aggression of peers. And without effective intervention and education, bullying can become cyclical, with the victims learning nothing but submission to what can seem an inevitable system of competition for dominance, by any means necessary.
Thank You for Flushing My Head in the Toilet is a play by Jonathan Dorf that was written for young people to perform as a way to learn about bullying. On Thursday, January 6, and Friday, January 7, Otto Layman's intermediate and advanced drama students at Santa Barbara High School (SBHS) will put on Thank You for Flushing under the direction of DramaDogs' E. Bonnie Lewis and Michelle Osborne, who are artists in residence with SBHS for this project, which is partially funded by the Santa Barbara County Arts Commission.
Although it is set in a contemporary high school, Thank You for Flushing's main characters are called Achilles, Helen, and Glinda, which gives some idea of the range of references that power this entertaining and poignant dramedy. Dorf multiplies the implications of every plot turn through monologues and choral speeches that reflect on the discord between rich inner lives and increasingly hard choices. The play also recognizes and identifies the four steps in coping with being bullied (listed below), which are immediately applicable to all who attend.
1. Neutralize your emotions.
2. Identify the type of bullying that is being practiced.
3. Control the encounter.
4. Explore your options.
By showing Achilles and Helen as they move through each of the four steps, Thank You for Flushing encourages both a healthy distance from the inevitable self-blame of victimization and a steady, unrelenting analysis of bullying behavior as the only way to control or stop it.
Catch Thank You for Flushing My Head Down the Toilet this Thursday, January 6, and Friday, January 7, at 7 p.m. in the Santa Barbara High Theatre (709 E. Anapamu St.). For info, visit dramadogs.org.