Cover Story
¡Viva el Arte! Connects Families to Music
Collaborative Project Supports Mexican-American Community
To Edward Juarez, being at a mariachi concert evokes feelings for the father he never knew. When the band plays songs from Zacatecas, Mexico — his father's supposed place of origin — Juarez closes his eyes and imagines his dad listening to the swell of the violin, the twang of the guitar.
"Maybe my father thinks to himself, 'What ever happened to my son?' I know I wonder about him," he said.
Juarez is a resident of Guadalupe, a small city in northern Santa Barbara County served by ¡Viva el Arte de Santa Bárbara! It's a program that brings musical and dance performances to the Latino community — countywide and free of charge.
Now on disability after years of agricultural work that damaged his back and knees, Juarez, 51, attends Viva events with his sister and his girlfriend. The affordable entertainment and quality family time are precious to him.
Other Viva patrons and volunteers tell the same story as Juarez — the music connects them to their culture, reminds them of their grandmother's kitchen radio, and takes them back to childhood birthday parties that reunited family members traveling from far away.
In its sixth season, ¡Viva el Arte de Santa Bárbara! is a collaboration of UCSB's Arts & Lectures, the Marjorie Luke Theatre, Isla Vista School, and the Guadalupe Cultural Arts and Education Center. Grant monies underwrite admission charges. But it is the outreach efforts that make the program successful.
Three outreach coordinators — in Santa Barbara, Isla Vista, and Guadalupe — spread the word about all the Viva offerings: concerts, dance fests, school assemblies, and community gatherings. Latino families who would other­wise be priced out of a fine arts performance can enjoy an evening of mariachi or ballet folklórico. Earlier in the day, their children interact with performers in an informal workshop in the school auditorium. While in residence in Santa Barbara during a long weekend, the artists also meet neighborhood people at a community center, perform a few songs, and then sit down for tamales and horchata with their hosts.
For years, the arts establishment knew there was an underserved population of residents in Santa Barbara County. Working-class people couldn't always afford tickets to the Granada or the Lobero. And the university's venues were seemingly not accessible either. Families living in downtown Santa Barbara, sometimes without a vehicle, viewed UCSB as a place for the educated, for the wealthy — and certainly not for them.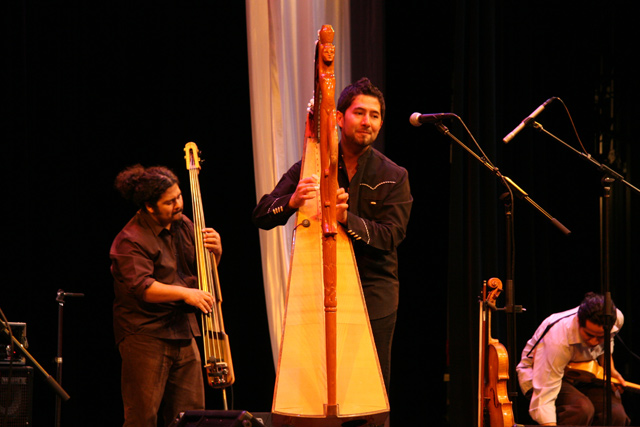 Knowing that meeting this challenge would take a new kind of collaborative project, three geniuses of the arts world put their heads together and conceived ¡Viva el Arte! Rod Lathim of the Marjorie Luke Theatre, Celesta Billeci of UCSB's Arts & Lectures, and Patrick Davis, then director of the Santa Barbara County Arts Commission, mapped out a plan to connect ordinary people to the arts.
"There was a running joke," said Lathim. "If you had a singer with a Spanish surname perform in a classical music group, then you were successful. But that wouldn't really be bringing in a Latino audience. With this program, we build trust and involvement. We give the audiences culturally relevant arts."
So, how does Viva work? First, programming experts at the esteemed Arts & Lectures office compile a list of performers that is then circulated to the communities served by the Viva outreach workers. Community members choose their favorites, and those artists are booked at the Marjorie Luke Theatre, located in Santa Barbara's Eastside, and in Guadalupe, either at the Royal Theatre or City Hall auditorium. Other activities are staged at schools, housing projects, or community gathering spots.
Children First
"Junior high students are a tough crowd, I can tell you," said Rick Villa, general manager of the Marjorie Luke, an 800-seat theater on the Santa Barbara Junior High School campus. "But after a song or two from the female mariachi groups, the ice is broken."
In mid December, Villa met with Aliz Ruvalcaba-Ventura to plan for school assemblies scheduled for the first week in January. Ruvalcaba-Ventura, formerly a reporter for Univision, is the Santa Barbara-based outreach staffer for Viva. She builds audiences through her connections at La Casa de la Raza and the Hispanic Chamber of Commerce, among other groups.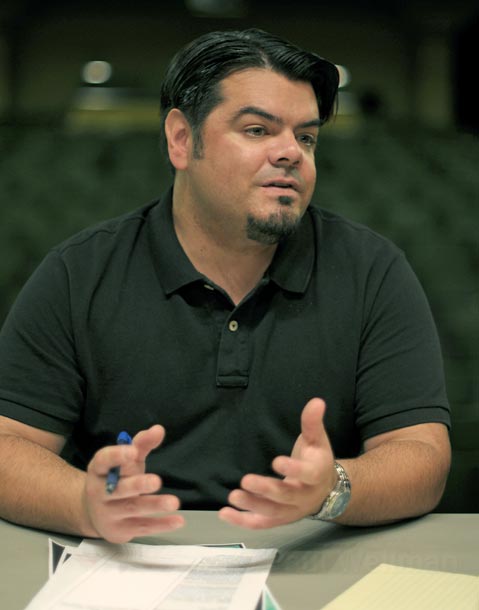 The first Viva event of 2011 will feature Mariachi Mujer 2000, a world-class ensemble that entertained thousands at the Beijing Olympics. More recently, in August, Mujer played the Santa Barbara Mariachi Festival. Villa and Ruvalcaba-Ventura agreed the Marjorie Luke will be packed to capacity for the afternoon and evening shows. That's in addition to hosting two student assemblies.
The mujeres will rock the house, they predict. And, as they have done in years past, families will come in a multigenerational wave of babies, grandparents, teens, aunts, and uncles — either walking from their homes in the neighborhood or piling out of the family van.
Mariachi music has emerged as the most cherished art form in the Viva repertoire, said Ruvalcaba-Ventura. Young people are transfixed by the musical virtuosity and costume splendor. Older people are simply sentimental about it.
"People love to cry with mariachi in Mexico," she said. "If you have a death in the family, the music helps you mourn. It may start out with sadness, but it always transforms to happiness."
Dazzling entertainment aside, a strong educational component has led to success for the Viva program. Not only do the students go home and tell their families about the performances; they themselves become arts enthusiasts and future patrons. Some youngsters are even inspired to take up a musical instrument.
To begin with, Viva artists are screened for an ability to educate and interact with youth. Study guides are provided to teachers so they can prepare students for a question-and-answer session with the musicians and dancers. At Isla Vista School, a special program involves UCSB graduate students developing a lesson that follows state curriculum standards.
Felipe Garcia, parent to Isla Vista School sixth-grader Oscar, is grateful for the academic benefits of the program. More important to him, however, is that Oscar is now playing the violin after being enthralled with a Viva presentation.
"I strongly believe a student practicing music and participating in sports will always do better learning in school," said Garcia, an Isla Vista resident and apartment manager. As an active member of the PTA, Garcia coordinates other parents to volunteer at Viva events at I.V. School. There's never any trouble, he said, getting people to work the door, set up chairs, or make snacks.
Viva even goes a step further. Local students of mariachi, such as those involved in Santa Barbara Youth Mariachi, are invited to play with visiting professionals during workshops. Youth musicians improve their technique in small groups, but also learn about the meaning of songs and the history of mariachi. Then they see those mentors on television or in festivals and feel like they can take their art to the next level.
Casie Killgore, principal at Franklin Elementary School, found a new way to help her students when Viva brought Mariachi Divas to Santa Barbara. Killgore created a women's empowerment luncheon and invited girls, mothers, teachers, politicians, and members of Divas. The female mariachis talked about the challenge of achieving success in a male-dominated field.
"The performers also had jobs as bankers, teachers, lawyers, and real estate agents, so the girls were taught how to break through in terms of race and gender obstacles," Killgore said.
In the 'Hood
When Nati Cano and Mariachi Los Camperos came to the Dahlia Court Apartments in Carpinteria, the residents couldn't believe their eyes. Los Camperos are among the finest mariachis. Everyone knows that. Cano's band has won a Grammy and played with Linda Ronstadt. They are credited with leading a mariachi renaissance in Mexico and the United States, and, ultimately with bringing mariachi into international prominence.
Indeed, it was extraordinary to have the housing complex, operated by People's Self-Help Housing, reverberating with the fine interplay of string and horn, accented by rich, perfect vocals.
"Live performance is so special, and this group is incredible," said Kathleen Lord, director of Bellas Artes, a nonprofit that conducts visual art workshops in low-income housing communities. As a Viva partner, Lord's group makes all the arrangements in the Carpinteria community.
"Nati Cano talks directly to the parents and to the children. He told them, 'We can feel your love. We are trying to return it to you.'"
Knowing that Cano was coming, the Carpinteria children made valentine decorations that were hung in the carport where dinner (chicken mole and handmade tortillas) is served after performances in the open-air courtyard. To represent the spirit of Carpinteria and its flower industry, each mariachi was given a rose.
The informal interaction between community members and the artists in neighborhood settings is just as important as the big, flashy stage performances, according to Cathy Oliverson, the Arts & Lectures program coordinator who oversees much of the project's bookings and logistics.
The Viva promotional slogan of "mucho más" promises poetry and spoken word, stories and jokes, conversations with the artists, history lessons, casual instruction in song and dance, and refreshments.
Some of the Viva activities that strike a more serious note are the artist visits to incarcerated youth. "Viva artists regularly visit Juvenile Hall in Santa Maria, where the sessions go beyond music and dance to emotional expression and encouragement for the young people there," said Oliverson.
In October, the accordion-driven dance band Pistolera were the Viva headliner. (Think cumbia with an indie-rock flair and Spanish lyrics.) In addition to getting grandmas on their feet and little kids hopping up and down at a Marjorie Luke dance-a-thon, the four-member ensemble was invited to visit locked-down teenagers.
The session certainly broke the institutional monotony for the sullen, jumpsuit-clad inmates, but it also became an epiphany for Pistolera lead singer, Sandra Lilia Velasquez. On her Facebook page, she made the following entry, titled "They reminded me why I play music."
"Then there were the girls in Juvenile Hall. It might have been the only time (that I can remember) where I felt like all of my lyrics were written for THEM. I wasn't just giving a show or singing songs, I was relaying life experience through music, and the connection was heavy. In a single moment, I remembered why I play music in the first place: to connect with people, to share stories. I felt like I was hearing my own lyrics for the first time."
Like Velasquez, Viva patrons, volunteers, students, and organizers express a profound satisfaction with the program that has successfully brought life to the arts, and the arts to the people. In the words of the Pistolera song "Nuevos Ojos (New Eyes)," "La vida es una maravilla. Todos podemos cambiar el mundo." Translation: "Life is a marvel. We can all change the world."
4•1•1
The 11 members of Mariachi Mujer 2000 led by founder Marisa Orduño will be in residence January 6-9. Friday night's show will be at Isla Vista School at 7 p.m. Saturday's show is at the Royal Theatre, Guadalupe, at 7:30 p.m. Sunday night's show will be at the Marjorie Luke Theatre at 7 p.m. Visit luketheatre.org/vea_vea.html or call the Luke at 884-4087 or Arts & Lectures at 893-3535 for more information.