Voices
Concentric Rings of Positive Impact
Permaculture Course in Kenya Attracts Leaders and Changers
Over 700 children orphaned by the scourge of HIV in East Africa live here at Nyumbani Village, founded in 2006 by the late Father Angelo D'Agostino.
Located in the Akamba traditional tribal area, Nyumbani Village has already become a successful model for the care of orphaned children and elders. It has developed an impressive infrastructure including rainwater harvesting, food security, ecological toilet composting systems, and site-built housing using mud, cement, and tin.
Two years ago Joseph Ntunyoi, director of the Nyumbani Village Sustainability Department, contacted me and asked me to teach the first Permaculture Design Certificate course at the village, with the goal of inspiring and advancing stable, resilient, and sustainable systems of human settlement in Kenya. My bumpy ride up a red, rutted dirt road ended just through the village entrance, on a warm day in early December, 2010. I was welcomed with open arms by the elders and children, staff, interns from around the world, and visiting consultants.
Our permaculture design course attracted students from Uganda, Liberia, India, Germany, and America as well as Kenya. I would like to highlight a few of the visionary souls who took part, for you to grasp how powerful and diverse they are, and what a crucial contribution permaculture is making to regenerative living around the globe.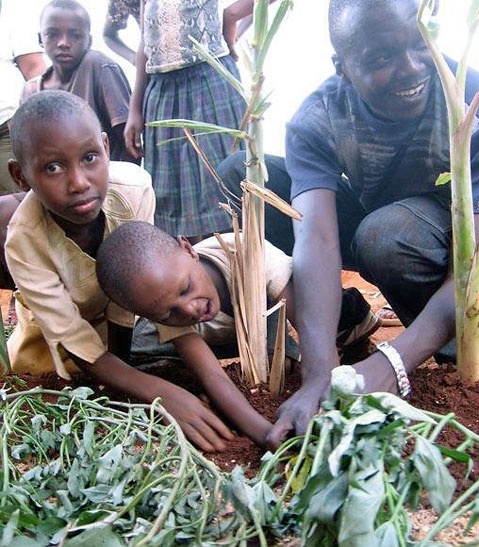 Mohamad A. Mohamad has been a keystone in the formation of an organization called Youth and Farm Self Help Group, based in the slums where he was born, in the Kibera District of Nairobi. These young folks have converted an old dump site into a productive farm, and have made a micro-business from a simple toilet and bathing facility. During the 2008 election when violence threatened his community he inspired others by living his ethics which beautifully coincide with the Permaculture Ethics: Care of the Earth, Care of the People, and only taking a Fair Share.
Nath, named by his spiritual community in India, is a young man in his 20s from Germany. He is one of those young people who give us hope that the future will be guided in a beautiful way by these old souls in young bodies. He runs a youth organization called AYUDH Amrita Yuva Dharma Dhara, a Sanskrit term which can be loosely translated as "the youth which perpetuates the wheel of Dharma (Righteousness)." AYUDH's activities in India include providing food and medical aid, offering free eye-treatment camps, cleaning hospital compounds, and planting trees.
Rupal Shah, Kenyan of Indian decent, is a dynamic woman who is passionate about helping people and the earth, and an important part of the management team that has developed the Amrita Children's Center, which within just a few short months will be housing, educating, and loving over 100 orphaned children. This home is part of a greater organization guided by Amma, the hugging saint, under her umbrella, "Embracing the World."
Gai Cullen, Kenyan of British descent, is a real mover and shaker. Through her successful businesses, philanthropic endeavors, and development of conservation trusts, she is creating, rehabilitating, and preserving vital habitat for Kenya's myriad wildlife populations. During our day off, we went out in her small plane and spotted a white cheetah, the only one in existence, among the many other animals that have a permanent home thanks to her efforts. Permaculture will be a formidable part of wildlife restoration efforts.
Stephany Salaita is a vital community resource to her Maasai community. One of the few women with a college education, she could have left for the city and a well-paying job. Yet she chose to return to her community to help coordinate a youth group, RETO, which offers support to women who have been raped and works to prosecute offenders. RETO members use education programs to combat female genital mutilation, and tree-planting programs to reforest their badly damaged ecological systems. Strongly committed to her tribe, she will surely be a key teacher in permaculture.
David Okware organizes a cooperative of over 8,720 farmers in the Kinguru District of Uganda, helping members with marketing, enterprise training, advisory services, and technology transfer, and addressing issues of land degradation, HIV, and climate change. If David's design project during the course is an indicator of what is to come from him, he will certainly be a formidable permaculture designer and teacher.
Hawa Kamara is quickly becoming a leader in her Mandingo tribal community in northern Liberia by being one of the few women who have learned to both read and write. Hawa works with Everyday Gandhis, a peacemaking NGO in Liberia, to reach out to those in her community who were deeply affected by the recently ended civil war. She will touch many lives with her understandings and application of permaculture.
Faith Musyimi helped to develop SASOL, an organization that addresses the issues of water scarcity, food security, poverty, and education in her Kenyan tribal community. Sand dam projects that revivify the watersheds by slowing the water and trapping silt, thus enhancing the groundwater recharge of the area's wells, is one of SASOL's key programs. The group also teaches and demonstrates broad-acre tree planting, terracing, community capacity building, and development of leadership skills. Faith will be able to use permaculture design skills to create positive change in her community.
People from all over the world come to Nyumbani Village not only to share their gifts but to gather, for their own spirits, a sense of what is possible. One visiting Kenyan dignitary shared with the residents and course participants the possibility of reducing their need to cut down the forests by cooking with solar cookers. Her name is Faustine Odaba and she is known in East Africa as "Mama Solar." She teaches people how to live with real-time sunlight to meet their daily needs. Her organization, NAREWAMA (Natural Resources and Waste Management Alliance), promotes environmental conservation and the use of renewable energy. She is considered by many to be a pioneer in teaching people how to turn waste into profit through re-purposing plastics into woven hats, capes, bags, etc., and converting human waste into fertilizer for growing food.
On the last day of the course after the students received their certificates, we spent some time developing a mind map of where each student was going to demonstrate their newly acquired skills and understandings of permaculture. I was completely humbled by the inimitable pathways in which the deep learning that occurred is about to make its way out into the world. It was wonderfully clear that many of the students attending this PDC will each individually touch thousands of lives with permaculture, who will in turn touch thousands more. David Okware alone will be able to begin developing demonstration sites in Uganda that will soon introduce nearly 9,000 farmers and their families to permaculture.
David's strategy, which I consider the best strategy, is to start by setting up a demonstration site on his own farm, to show permaculture in action and the appropriate local methodologies. In this way, they see first-hand the economic, ecologic, and social capital that a well-designed permaculture system develops and yields.
Each student in this PDC has committed to developing a demonstration example of what they have learned in this course, and I can only extrapolate from this that many thousands of lives will be touched.
The success of developing a broad concentric ring of influence with a single PDC has been in creating a course environment that welcomes and inspires change-makers and leaders to participate together. We were able to create a leverage point for the permaculture teachings and their application to reach far and wide into the fabric of myriad constituencies, cultures, and bioregions—with very little overall energy expenditure.