Film & TV
Rabbit Hole
Nicole Kidman, Aaron Eckhart, and Dianne Wiest star in a film written by David Lindsay-Abaire, based on his stage play, and directed by John Cameron Mitchell.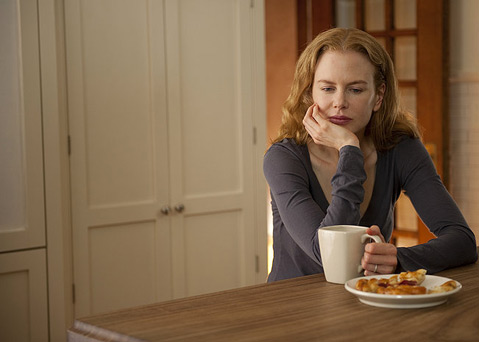 Rabbit Hole is not the first film based on the gnawing, self-questioning emptiness of parents' lives after the death of a young child. But it demonstrates the adage that there is magic and freshness in the details, the dramatic treatment, and the all-important matter of emotional heat regulation. Details matter greatly in this sensitive dramatic landscape, and we get them at various stages of the film; in Nicole Kidman's stunning and movingly sensitive performance, in Frank G. DeMarco's gleaming, just-right cinematography, and in the deftly paced screenplay by David Lindsay-Abaire, based on his stage play (which could help explain the distinction from the usual clichés of American movie-script syntax).
We're drawn into the story midstream, in the cool, benumbed aftermath of the death of the couple's son, eight months later. A slow-brew melancholy hovers over the post-traumatic lives of Kidman's character and her husband, played by Aaron Eckhart, and their festering angst erupts in different ways, spurred by different impulses. We're 50 minutes into the film before the first emotional gusher—it's that kind of movie. At one point, the husband's attempt at seduction quickly goes south. "You're trying to rope me into sex," she says. "Al Green is roping?" he says. "Things aren't nice anymore," she surmises, correctly.
In the periphery of the simple but compelling dramatic schematic, Dianne Wiest is stellar as the similarly tragedy-afflicted mother of Kidman's character. From another angle and "parallel universe," the refreshingly understated teenaged actor Miles Teller plays the ill-fated driver of the car that triggered the story's central tragedy, with a connection to the grieving parents reminiscent of the dramatic equation of In the Bedroom.
It comes as some surprise that the director is John Cameron Mitchell, previously known for the sensory gymnastics and hedonistic freak shows Hedwig and the Angry Inch and Shortbus, the antithesis of this patient, poignant character study. Ultimately, Rabbit Hole is a slow and unusually restrained, beautiful and generally artfully made film, with varying shades of sadness and resolution—or at least fragile impressions thereof.