Dance
Appalachian Spring at the Granada
State Street Ballet and the SB Symphony Find a Harmonious Union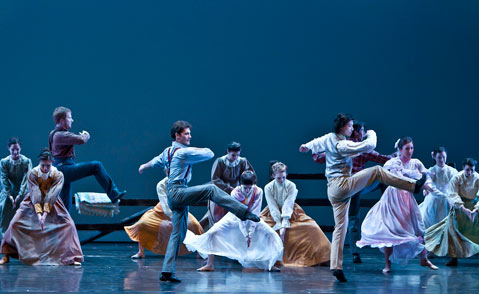 Traditionally, the ballet and the symphony weren't two distinct arts organizations; they were two aspects of one form and often shared the same space. Not so in Santa Barbara. Though they've performed in the same community for many years, State Street Ballet and the Santa Barbara Symphony had never shared a program until last weekend. It was fitting that for their collaborative debut, they chose a range of works to highlight the close relationship between dance and orchestral music.
The program opened with the symphony onstage for Schubert's Symphony No. 5, one of the composer's best-known works and a masterpiece of late-classical grace and refinement. From the playful counterpoint of the opening allegro through the andante's golden shimmer of strings, it's true symphonic bliss. But it's not what you might call "physical."
In contrast, Stravinsky's Pulcinella, written as a ballet approximately 100 years after Schubert's symphony, is undeniably kinetic. It's full of swings, dips, and sudden changes of direction. Conductor Nir Kabaretti invited the audience to close their eyes and picture the ballet that might accompany this suite, and it wasn't hard to come up with images; a clarinet's soulful wail evoked a lovesick maiden wringing her hands; limping rhythm of the cellos suggested an old horse plodding home. From the daintiest tiptoeing of the violins to the deepest blurts of the bassoon, this was music to conjure choreography.
Having set the stage for dancing, the symphony made a speedy descent into the orchestra pit, and the dancers of State Street Ballet took their places for Appalachian Spring, a new ballet from William Soleau set to the Aaron Copland score originally written for modern dance pioneer Martha Graham. Soleau's version echoed some of Graham's images: dancers freezing to create tableaux, low lights casting figures in silhouette, a set of rough fences evoking rural land and open space. Yet Soleau carried the music in new directions, pairing a young woman from the city with a young man from the country, thereby creating subtle tension between two groups. With a score clocking in at less than 25 minutes, this had to be a crisp and polished ballet, and Soleau made every moment count. The handsome Yosuke Yamamoto had only to nudge the top of his head against Leila Drake's pretty white dress to impersonate a bull and send the city girl into a fit of giggles; these two found an easy and believable flirtation, supported by a tight ensemble.
As bookends to the ballet, the dancers stepped into squares of light and posed as if for family portraits, framing the dance as one chapter in an ongoing story, much as this shared program was a moment of union between two companies with rich lives all their own.