Positively State Street
The Aggrolites, Killola Provide the Soundtrack
Concert Picks Keep On Coming During SBIFF
PLAYING DIRTY: With the Santa Barbara International Film Fest cruising through town this week, one might guess that S.B.'s live-music movers and shakers would take some time off, sit back, and let those cinephiles get their time in the spotlight. Guess again. In the midst of all the Hollywood-style chaos, promoters and venues are loudly and proudly cranking up the volume, and playing host to a range of live acts from all over the California coast.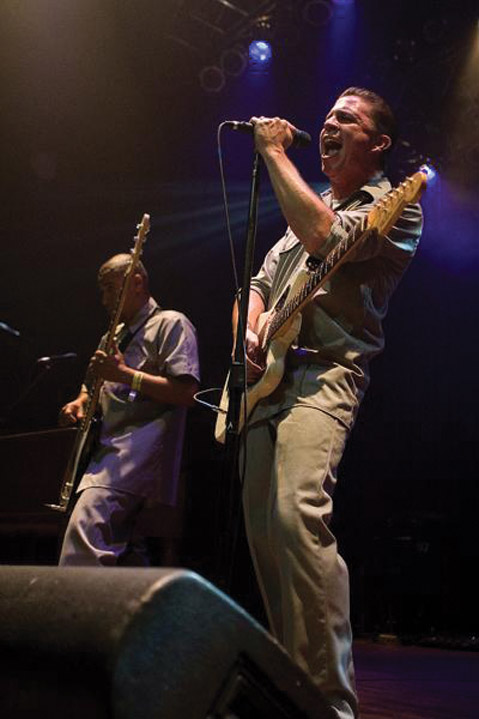 Looking ahead to next Wednesday, SOhO (1221 State St.) is where you'll find Los Angeles natives (and Santa Barbara favorites) The Aggrolites. Best known for their laid-back vibe and "dirty reggae" slogan, these four have been making big leaps of late. In fact, the band's SOhO gig is situated smack in the middle of their (mostly sold-out) West Coast tour with punk rock icons Social Distortion. But even without Social D playing in their wake, The Aggrolites know how to get a party started. Their tunes are a self-described mix of reggae, soul, grit, and determination, a combo which, at its craziest, lands them somewhere in between Madness and Little Richard. Slowed down, The Aggrolites deliver all the mellow grooves and island-infused sensations that make reggae so gosh darn listenable. But we still like 'em in party mode. Want a taste? Check out "Reggae Hit L.A.," a dizzying swell of electronic organs, big chant-along lyrics, and enough funky drum and bass to drive the old-school fans wild. The Aggrolites play SOhO Restaurant & Music Club on Wednesday, February 2, at 8 p.m. Call 962-7776 or visit clubmercy.com for tickets.
WHAT'S YOUR SIGN? Also this week, New Noise Santa Barbara brings San Fran's Zodiac Death Valley to Muddy Waters Café (508 E. Haley St.) with S.B. hard rock-lovers Naked Walrus. If you've yet to catch ZDV's musical movement, this show is an opportunity not worth passing up. The quintet (made up of frontman/guitarist Niccolo Abodeely, guitarist/pianist Nathan Ricker, bassist Daniel Burns, drummer Landon Cisneros, and guitarist/pianist Jordan "Dache" Villa) is well versed in the psychedelic musical history of their hometown, and the influences (from Jefferson Airplane to Grateful Dead) are worn loudly and proudly. In addition, you get swirling surfy guitars, otherworldly orchestrations, and a frontman who channels Jim Morrison at some points, The Growlers' Brooks Nielsen at others. The result is a sound that's nearly perfect for Muddy's dark, loungey atmosphere, and one I can't wait to catch in person. Zodiac Death Valley plays Muddy Waters Café on Sunday, January 30, at 8 p.m. Call 966-9328 or visit newnoisesb.com for info.
KILLING THEM SOFTLY: And for those still looking to keep their fists pumping in the film fest's final days, allow me to introduce Killola. These L.A. rock 'n' rollers—and recently crowned MTV staples—are notorious showfolks, willing and able to bring a roomful of fans to full freakout status with little more than a sultry bass line. The reason, of course, is frontwoman/resident sexpot Lisa Rieffel, who proudly walks the line between Gwen Stefani's early-day innocence and Maja Ivarsson's in-your-face onstage antics. Sonically, the Killola clan are mixing straightforward rock 'n' roll with New Wave and post-punk influences. Synths and keyboards play prominent roles, but never overshadow the always reliable guitar-drum-bass combo, and Rieffel's cheeky lyrical bravado is always situated front and center in the mix. Ultimately, though, these three have yet to put anything to record that truly captures the live goods. In other words, you've got to check these guys (and this gal) out for yourself. New Noise presents Killola at Whiskey Richards (435 State St.) next Thursday, February 3, at 8 p.m. Call 963-1786 or visit newnoisesb.com for info.