Film & TV
The Return of Deeper Shade of Blue
Jack McCoy's Ode to Surfing Gets National Screening
Crossing over is no easy trick. In fact, when it comes to trying to translate the sublimely redeeming, goofball core of surf sliding into something the legions of unjazzed can get their heads around, the end result is, generally speaking, pure crap. That is, until now.
This Thursday night, in more than 400 theaters nationwide, Jack McCoy, surfing's poetic wizard emeritus of the cinema, raises the curtain on his new film, A Deeper Shade of Blue. A sparkling, dazzling dance of a flick (which debuted earlier this year as part of the Santa Barbara International Film Festival), Deeper delivers what so many have failed to do before: With a near pitch-perfect blend of history, humor, and unadulterated eye candy, the film artfully transcends that age-old line in the sand between surfer and non-surfer. Be you a landlocked, chlorine only type of swimmer or a weathered and leathered, gnarl-toed old salt, Deeper is holding big time in both the education and entertainment departments.
When it comes to iconic, core surf movies, there may not be a better resume out there than McCoy's. Raised on the eastside of Oahu in Hawaii, Jack, who now calls Australia home, played an artist's appreciation of the underwater realm into a full-blown moviemaking career spanning the last three-and-a-half decades. His films, such as Tubular Swells, Storm Riders, Bunyip Dreaming, and Sik Joy to name but a few, have captured the best of the surf galaxy from the mid-1970s until now. With a keen sense for composition, quirky humor, ripping and rocking soundtracks, and true high performance surfing, McCoy has again and again made movies that real surfers doing real things have always appreciated.
Now, at 62 years young and with a little help from his wide world of friends, he has made a movie that very much continues that tradition while simultaneously — and quite remarkably — making room at the table for the kooks amongst us. In short, it is the cinematic manifestation of the aloha spirit that Jack holds so near to his heart. "With Blue Horizon [a film McCoy made in 2003], I was trying to show where surfing was at the turn of the century and where, maybe, we were heading," explained McCoy recently. "But this, this is the Deeper Shade. This film goes back to the roots. It isn't about what's new or next, it's about what has never changed. … It is about having fun."
And fun is exactly what the viewer gets. First and foremost there is the never-before-seen underwater footage captured by McCoy while riding a submersible jet ski-esque device just a few feet behind exploding waves. Beneath the surface/behind the wave views have long been commonplace in the still photography world and, to a limited degree, the filmmaking world as well, but never before has there been anything like this. Driving slow and low in the slipstream of pitching 10-foot barrels, McCoy captures — in stunning high definition no less — a dream-like view of tube-riding that very few amongst us have ever had the good fortune to witness. Watching it on the big screen is one part blissful hallucination and one part realization of just how magical and awe-inspiring waves and the act of riding them truly is.
Other highlights include the often overlooked story of Hawaiian Princess Kaiulani, the historic etchings of Joe Quigg from a time and place in surf history that cameras mostly missed, the Marshall brothers' modern day longboarding performance art at Malibu, South Africa's Jordy Smith doing things on and above waves that make you question the laws of gravity, and an introduction to a heaving hunk of ocean in Tasmania that, quite literally, eats people.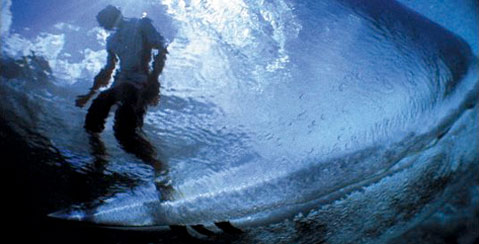 Then there is Derek Hynd. For my money, the former pro-surfer turned prolific provocateur with the pen turned ageless guardian of the glide straight up steals the show. Collaborating with McCoy from the earliest stages of Deeper as a jack-of-all-trades partner-in-crime, Hynd, to hear Jack tell it, was not necessarily meant to be a "on-screen" part of the film. However, as time went on and the footage kept piling up, Derek's back to the future, spinning, floating, and flat-out flying finless surfing demanded a place of its own. Just a few hairs south of 60, Hynd, with a smirk of amusement on his face and a lifetime of serious surfing experience under his belt, is in many ways the perfect representation of McCoy's overarching message. In less than five minutes of screen time, Hynd and his liberated approach to riding a wave unequivocally sets the record straight about what this whole Sport of Kings, and Deeper Shade of Blue, is about: Function and Fun.
4•1•1
Jack McCoy's Deeper Shade of Blue will be screened at over 400 theaters this Thursday, May 28. You can catch the film locally at the Arlington Theatre at 7:30 p.m. For tickets and info, call (805) 963-4408 or visit fathomevents.com.