Visual Arts
Outside at the Atkinson Gallery
Show Features Six California Artists
OLD THEME, NEW TAKE: In a town where January delivers bikini weather and purple mountains stretch out to nap beneath cloudless cerulean skies, it's no surprise artists are drawn to plein air. Who wouldn't want to be out in this sunshine? Yet for Outside, on view at SBCC's Atkinson Gallery (721 Cliff Dr.) through February 17, director Dane Goodman has intentionally chosen work that defies expectations. Five of the six artists represented here live in the region, yet none of the works on display could quite be described as Santa Barbara landscapes. Instead, this carefully curated collection offers a range of fresh approaches to the concept, from paintings so free they're nearly abstract to photographs where the ghostly subjects are tiny and inaccessible, hovering somewhere outside the realm of the ordinary.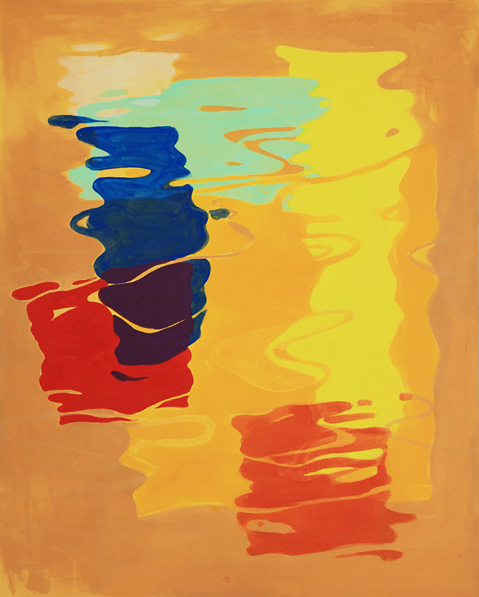 For lifelong surfer Rick Stich, choosing a subject isn't hard. He paints the medium that surrounds him, and his three works for this show demonstrate his intimate understanding of water's reflective qualities. These are sophisticated compositions, both in terms of color—each one's got a good game of push-pull going between warm and cool hues—and as balanced studies of the relationship between figure and ground. "Untitled (gold)" is like sunrise liquefied.
Kim Yasuda also deals with water in "Domestic Bathymetry," a title that references to the study of lake depth. For this installation piece, Yasuda uses a stack of synthetic blankets, piled on the floor and cut to create a layered hole that replicates the topographic contours of Crater Lake. By taking common household items and using them to represent the Earth's crust, Yasuda takes the inside out. At the same time, she brings a geographic feature down to the human scale, transforming it from vast and magnificent to small, warm, and fuzzy.
There are works here that approach the theme more directly. Pamela Zwehl-Burke fills strips of butcher paper with botanical sketches in charcoal, while Robert Dycus has an entire wall's worth of oil paintings on panel, all of which depict remote locations in Utah and Arizona. Amid the many towering, bulbous rock formations are more familiar scenes; "Dox Castle" captures the dusty pinks and mauves of the Grand Canyon in early morning.
On an adjacent wall, Madeleine Tonzi's installation "Retention and Reconstruction" seems to answer Dycus's traditional, painterly style with a zinging graphic pop. Wide-eyed hummingbirds, spiky yucca plants, and lumpy southwest mesas dot a slate gray wall, like guidebook illustrations cut loose and floating free.
Most mysterious, and certainly darkest, of all the works in this show are Gail Pine's nine photographs from her new series The Black Pictures. Pine has created reverse images from old snapshots, manipulating their exposure so that the figures appear white, nearly luminous against black backgrounds. The images are eerie and made more so by titles taken from Edgar Allen Poe's poetry. "And I Rest So Contently" gives the tilting telephone poles the haunted look of grave markers; "The Melancholy Water Lie" casts its two tiny bathers into a shadowy, apocalyptic void.
Outside the Atkinson Gallery, the January sun beats down on red tile roofs.
ALSO ON THE RADAR: For those who like their outside art looking a little more like the area's environs, Marcia Burtt Gallery (517 Laguna St.) offers Our Coast, a collection of paintings by Burtt, Michael Ferguson, Dana Hooper, and Anne Ward. The works will be on display through May 8.
For the month of February, the Santa Maria Public Library's Shepard Hall Gallery (421 S. McClelland St.) will be displaying historical composite photographs by Kam Jacoby that blend old and new images of the Santa Ynez Region. The Buellton Union School band of 1952 poses outside the 2008 version of their building—it has become a post office—while a group of bathers from 1912 huddles in the water at Lompoc's Ocean Park circa 2007, happily oblivious that more than 90 years have passed.