Film & TV
The Rite
Anthony Hopkins, Colin O'Donoghue, and Alice Braga star in a film written by Matt Baglio and Michael Petroni.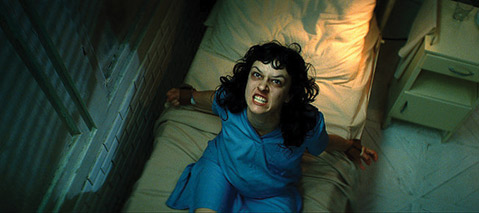 In his day, so far, Anthony Hopkins has shown himself to be a compelling, skilled actor in roles where darkness rules (i.e., the slyly sinister, brain-eating Hannibal Lecter and Richard Nixon). With the surprisingly enjoyable exorcist-shtick film The Rite, Hopkins moves over to the light side, sort of. In Swedish director Mikael Håfström's deliciously dark saga, Hopkins plays a famed exorcist in Italy, but with some nagging issues and lapses of faith. "I feel scraping inside," he says, "like God's fingernail, pushing from the darkness back to the light." Hopkins, the actor, could be talking about his own filmography.
Just when we thought it was safe to go to the movies without pondering demon possession and exorcisms, it's back in the movie news, and so far, with interesting results. Last year's low-budget, cheap-thrills flick The Last Exorcism was actually a better film than this, but The Rite qualifies as a not-bad cinema fix for the early-year doldrums. For one thing, the genre offers great opportunities for actors to channel multiple personalities and work the good guy/bad guy schism in a single role—a juggling act pulled off nicely by both Hopkins and Marta Gastini, as a scary, fine young demon hostess.
At one point, Hopkins' veteran exorcist character, working in Rome and apprenticing a young seminarian doubter (Colin O'Donoghue), performs one of the more mild-mannered demon-cleaning sessions and tells his young charge, alluding to the infamous scenes from The Exorcist, "What did you expect? Pea soup? Spinning heads?" Well, similar such unpleasantness and good horror-film fun are soon to hit the screen, and from some unexpected angles.
Håfström has concocted a horror outing with the required shock tactics and dark magnetism, plus pulpy qualities mixed with a certain sleekness of production values. The more secret messages, of course, have to do with the ageless questions of faith, doubt, spirituality, the church, and the guy downstairs, implying the existence of the guy upstairs.