Film & TV
Touching on the Troubadour
Singer-Songwriters and Boomer Zeitgeist on the SBIFF Big Screen
True confession: in the mid-'80s, I played at the world-famous Troubadour on Santa Monica Boulevard, like countless other musicians, large and small, meteoric and humble (and many a Santa Barbara act). It was with our blue-eyed soul band Jumpspace, during a strange nether-period for Doug Weston's famous club, between its landmark early '70s heyday, the dubious pay-to-play period, and later renaissance moments (such as now). But, whatever the case, it was with surreal excitement that I played on that stage, where I had heard my guru Miles Davis, and several Steve Martin shows. Never mind that another memory was when a heckler shouted out "more sex!" during our 30-something minute set, slightly but not completely unnerving our singer, Rose Burns.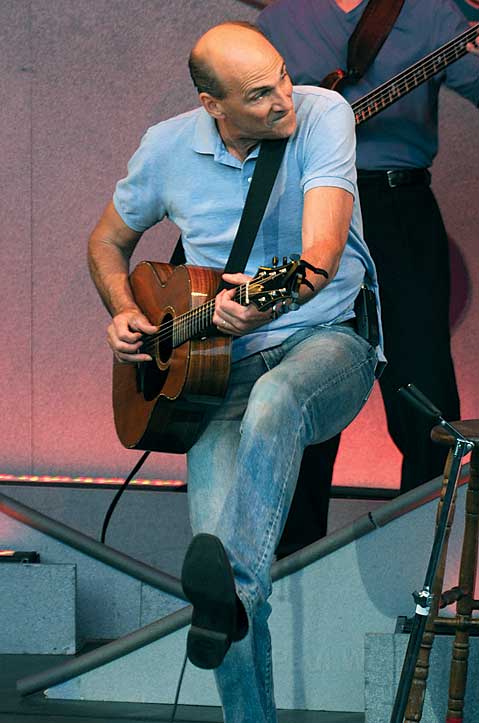 All that is just barely apropos of one of the more Boomer Nostalgia buzzing docs of this year's SBIFF, Troubadours. Coming here after a world premiere at Sundance (thus, its second stop in its tender exhibition life), Morgan Neville's impressive film is a strange but fascinating mutant, if you're of a certain age. Ostensibly, the film is a timely shorthand doc on James Taylor and Carol King, who rose out of the Troubadour's heyday (along with Elton John and others) and who played there for its 50th anniversary in 2007, and then again for a grand 2010 tour, which brought them to the Santa Barbara Bowl last summer. Pop music docs can get quickly dull and myopic, of course, however interesting the subjects.
More interesting here, actually, is the film's historical-cultural overview of an era and a scene in Los Angeles, and Laurel Canyon, more specifically. The word "zeitgeist" gets tossed around a lot, and for good reason: There was a geo-cultural buzz which has had lasting reverberations in music, through to today's new singer-songwriter boom.
Local angles, once removed, abound in this film, including commentary from sorta Santa Barbaran musicians of note who have lived in and around Santa Barbara for years, Jackson Browne, David Crosby and Steve Martin, who owes his beginnings to his legendary gonzo comedy-banjo shows in the club, starting with spots on the Monday "hoot nights." Martin was always a bit out of step with the hipster scene in L.A. at the time, and he reflects "how long can free love and pot last as a cultural foundation?" Of course, it was much more than that, a point the film abundantly illustrates.
The film has the good graces to give equal time to the renowned backup musicians on the scene, known as "the section," and especially the articulate scene-overview observer Danny "Kootch" Kortchmar. From the Fourth Estate corner, former LA Times pop critic Robert Hilburn plays the boosterist good guy historian, in contrast to Robert Christgau, who supplies some sneering east coast rock critical dismissal of the L.A. "mellow mafia" scene '70s. (Bonnie Raitt suggests that "maybe if journalists got paid more," they'd stop carping.)
Personally, the film's most poignant moment is the clip of James Taylor singing "Fire and Rain" at the Newport Folk Festival in 1969, before it was acknowledged as one of the great songs of the 20th century, sung by a long-hair folk aspirant. This song is pure genius, whether heard in its embryonic stage or by a now veteran music man in the confines of the Santa Barbara Bowl under a summer sky. Great songs are among the most time-fuzzing items in all of the arts.
For us diehard fans of the late, great comic filmic genius Jacques Tati, The Illusionist comes on like a warm thing of wonder, also lined with bittersweet air. The new, lovingly, and lavishly handmade animation project from acclaimed Sylvain (The Triplets of Belleville) Chomet, the story is based on an unmade screenplay by Tati, which he originally intended to star in with his daughter, and features, in animated proxy, our beloved tall, clumsy, virtually dialogue-less, impish and humane protagonist on the screen again, in animated form, at least.
In this tale of an aging, end-of-career, end-of-an-era magician on the road to a modern (aka '60s era) England and Scotland, with a young Scottish woman and his trusty hat-ready rabbit, we're swept into another reality, wistful, innocent and twilit. At one point, the cartoon Mr. Hulot ducks into a movie theater which happens to be showing the Tati classic Mon Oncle, and there he is in the flesh, being watched by the posthumous animated surrogate. With nostalgia-basted and waltz-leaning music by the director himself, The Illusionist is a beautiful but also sad moment, and the blend of the sweet and the melancholic continues to the surprisingly sighing ending.
Unlike most of the films screened during the festival, SBIFF's screening of the film is one of those which comes equipped with the assurance of a return visit to town, in a regular theatrical run. Put it on the don't-miss list, especially if Tati has made life worth living at any point in your life.