Film & TV
10-10-10: Tate Larrick and Wyatt Krutsch
Santa Barbara High and Dunn School Combine Forces for SBIFF Competition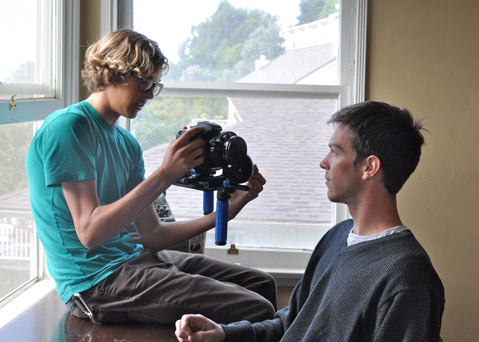 Tate Larrick is skinny as a rail, tan as a Mediterranean, and likes making movies. The Santa Barbara High School senior is a part of the Multimedia Arts & Design Academy — boot camp for kids who like messing around with cameras and computers — and made it this year to the finals of the SBIFF's 10-10-10 competition.
Larrick got matched with a script written by Wyatt Krutsch of Dunn School, who penned a story about a suicidal author reuniting with his lost love and best friends from high school. Considering that one of their props is a noose, Larrick seemed nothing short of upbeat and happy on the set. Even when scooched in the back corner of the back room in a vacant house off Foothill, he and his sound guy Max exuded a Santa Barbara coolness and laid-back attitude that belied the high pressure of 10-10-10.
Since Krutsch boards at Dunn School in Los Olivos, he hasn't been on set for the shooting and production process so far. But Larrick's got a clear vision of how he wants to see through Krutsch's script, and even the gloomy rain on Sunday didn't dampen his spirits, although the windows were all hanging open.
With a "that didn't work, so let's try this instead" attitude, he's one of the biggest threats in the high school competition. The other main contender is his good friend Marz Miller, also of SBHS. "Tell them we're arch enemies!" Larrick joked.