Film & TV
Risk Taker by Blood
An Interview with Nicole Kidman, Who Will Be Honored with Cinema Vanguard Award
Few celebrities have managed to grab the audience's collective collar and shake it so consistently for the past two decades as Nicole Kidman, the globally minded Hawaiian-born, Australian-bred actress who won us over in 1989's Dead Calm and continued to entertain on-screen in such pictures as To Die For and Moulin Rouge!—both of which won her the Golden Globe for best actress—as well as in her Academy Award-winning role of Virginia Woolf in The Hours. Just last month, Oscar came knocking yet again for Kidman, who's been nominated for her aloofly realistic but thoroughly tragic portrayal of a dead son's mother in Rabbit Hole, a powerful film about loss, blame, and grief that the actress also produced.
Here at the Santa Barbara International Film Festival (SBIFF), Kidman is being honored on Saturday night at the Arlington Theatre with the Cinema Vanguard Award, which recognizes actors who take risks during their career. She spoke to The Independent recently from her home in Nashville, where she lives with her young daughter and her country music star of a husband, Keith Urban.
What drew you to Rabbit Hole? Through my whole career, I've explored different facts of love. I've explored romantic love stories, I've explored losing love, and then, of course, maternal love, but I've never experienced loss in terms of maternal love and grief. When I read a review of the play in the New York Times after it just opened, the review said it was funny. My God! How can that material be funny? That was what initially intrigued me. So I got on my producing partner to have a look at it, and he said it's really, really good. That's when we approached David Lindsay-Abaire and said, "We'd love for you to write the screenplay. We will do everything to get it made, and we are committed to you and your process. We will protect the material."
What made you choose the playwright as screenwriter? It's the same with [the director,] John Cameron Mitchell. I like giving people chances. My whole career has been based on people giving me a chance, whether in terms of Gus Van Sant in To Die For and Baz Luhrmann trusting me to pull it off in Moulin Rouge! All of those people took extreme risks, and I suppose that's what I like to offer back. I like to take risks on people—that's when we're compelled to do our best work as artists.
Was it challenging to take this stage production to the big screen? Because David had lived with it for so long, it was incredibly fluid. The play was only five characters, but the film was so many more. It was already so real to him, so he was able to write them very easily. In between drafts, we had a screenplay that the director and actors were responding to immediately. That's so rare.
And we were able to raise $3.5 million to make this film. That was the right amount of money. We've already made our financiers' money back! That's good. If this film had been made for $10 million, it would have been too much. But if you make it for $3.5 million, you make your money back, and I get to tell the story I want to tell without having to be directed to be more sentimental or warm it up. We were able to be true to the material because no one was telling us what to do.
Do they show the accident in the play? They don't even have the moment in the car in the play. For me, that's the huge moment in the film when you see the pain in Becca. A lot of the film is Becca deflecting and defensive. She goes through such an array of complicated emotions, when you see the very primal crying—it's not even sort of normal crying, it's almost like trying to suck life, trying to somehow breath—it feels like she's drowning.
The choice of director was also interesting, as John Cameron Mitchell (Hedwig and the Angry Inch; Smallbus) isn't exactly known for family dramas. Once again, it's taking risks on people. As long as they've got an abundance of talent, I think most people can switch genres. I certainly knew when I spoke to John on the phone that this movie was in him, that this was his story and he was capable of telling something very simply but with a lot of heart. All of John's movies have heart. That's just John. That combo with this material was good. To put someone who was very reserved with this material felt like it could be the wrong mix because the film itself has a reserve to it. So it needed to pulsate. And he also lost a brother when he was young, so this was something that was very unresolved for him, and he's not frightened of being intimate. And I just like him.
The "rabbit hole," aside from being the title of a comic book in the film, seems to refer to this pattern of looking for blame and learning how to grieve. Definitely. They're both down their own rabbit holes. Part of the thing is that the only way out is through, and you've just got to keep burrowing through. That's what they're both doing, but they're doing it in different places, in different rabbit holes.
The film fest award is for being a vanguard, an actor and now producer who takes on films that aren't guaranteed hits, that are a bit more artistic and risky. Why have you led your career that way? It's in my blood. My whole life, I've tried to fit in, I suppose, and actually the way I function the best, and artistically the things I'm drawn to, are just not mainstream. They're just not. I've tried to conform, and I always come back to my essence. In my core, I'm just drawn to more difficult stories. I always was, even as a child—I started reading the Russians, Dostoyevsky and Tolstoy, when I was 11 or 12. I've always been drawn to things that are left of center. That's just been me. I never see it as a risk. I see it as my artistic voice. I know when I'm not being true to it, when I feel like I'm betraying myself. It's not a good feeling when I'm trying to please somebody or get into a role other people think I'm good for. What I'm best at doing are the things I know are unusual and dangerous. That's always been my case. There's no rhyme or reason to it.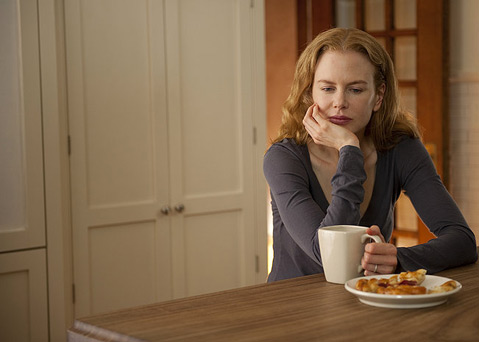 I'm also very committed to directors that have a very strong voice, that are auteurs. It's what I was raised on and what I am drawn to. I'll continue to do that as long as I'm given the chance. The things I'm developing as a producer are unusual stories, but they're worthwhile, and they certainly contribute to the conversation and to society in a way that's still needed. I'll always be true to that.
Is it easier to pursue these stories now that you're a producer? They're never easy. It's always hard to raise money. Most people can't see them. They say, "Huh? Why?" I have a strong sense of responsibility, too. That's why I didn't want Rabbit Hole to cost more than it brought back, because I didn't want people to lose money on me. I'm developing The Danish Girl, which is about the first transsexual, a beautiful love story. Even though I believe in the story, it's hard to get money for those things.
Have ever been to our film festival before? I've never been. My agent said that of all the film festivals, do the Santa Barbara Film Festival. It's so cool. It's so laid-back. They are really special people. I said, "Oh thank you, I'd love to come." We're gonna make it a family-trip event.
How's life in Nashville? We had a white Christmas this year, so that was nice. I like the peacefulness of Nashville. It's very quiet, very easy going. It's a good place to put in my roots.
What else in the future is coming up for you? I'm going to San Francisco in February to start work on a show about Martha Gellhorn, the first female war correspondent and also Hemingway's second wife. It's a story about Hemingway and Gelhorn during the Spanish Civil War and on through their tumultuous marriage. It's a one-off movie through HBO, which I love at the moment. They're doing adult dramas, which are the hardest things to get made, but, as a woman, they offer great roles.
And I'm probably going back to Broadway, but not 'til the end of the year, because I have a little girl and I like to be with her. I really try to space things out so I have the most of my time at home, then I can go off and do something intense, and come back and be very present for her and Keith.
So there's no plans to start singing with your husband? No, I'm too shy. I do a lot of listening. I have a 2-year-old who grabs the microphone already and sings nursery rhymes straight into it. You can imagine—we've got a bunch of singers.
4•1•1
Nicole Kidman will be honored with SBIFF's Cinema Vanguard Award on Saturday, February 5, at the Arlington Theatre. See sbiff.org for tickets.