Theater
Opus at the Ensemble Theatre
Play Explores the Dynamics of a Chamber Music Quartet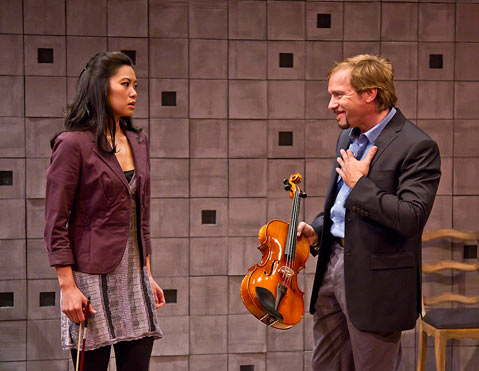 It's one thing for a solo artist to create a masterpiece. It's quite another for a group of people to make art that truly sings. Such group dynamics are the subject of Michael Hollinger's 2006 play Opus, which follows the fictional Lazara String Quartet through the crescendos and diminuendos of new hires, botched love affairs, once-in-a-lifetime performance opportunities, and diva histrionics. Beneath it all runs a current of sublime music: Bach, Bartók, and Beethoven.
Hollinger is also a viola player, and his musical inclination comes through in the way he structures each tight scene: nudging a certain character forward while the others recede, bringing the dialogue to a head and then down again. Close your eyes, and it's as if you're listening to music.
As Elliot, the quartet's high-strung first violinist, Douglas Dickerman slowly builds the case against himself. He is—as his jilted lover and the quartet's dismissed violist, Dorian (Louis Lotorto), notes—too strident. Dorian's replacement is Grace (Christine Corpuz), a talented young musician who finds herself at the center of this male mini-drama, alongside the libido-driven second violinist, Alan (Thomas Vincent Kelly), and the somewhat hapless cellist, Carl (Brian Harwell).
What ensues is full of the heightened passion and dramatic twists that make for great art, if not for a balanced, harmonious life. As Alan notes of his unpredictable ex-colleague, "Dorian felt things more deeply than most people. That's what made him brilliant." Despite having been fired from the group, Dorian haunts the Lazara, and ultimately each player must choose between his fiery genius and Elliot's neurotic control.
Under Brian Shnipper's direction—or is it conducting?—the actors flow between traditional staging and close-up interviews, as if flashing into clips from a documentary. In these monologues, the characters become even more vivid, sharing memories from the group's early years and reflecting on what drew them to music in the first place. In one such scene, Elliot and Dorian stand side-by-side, each man recounting his own version of their first duet: the largo from Bach's Concerto for Two Violins. The music—tender, exquisitely simple, and full of longing—plays softly as the men speak: "You couldn't tell who was who anymore," "First one on top," "Like lovers rolling," "Then the other," "Rolling …" Their eyes close in remembered ecstasy.
Any lover of chamber music will want to catch this production, but music appreciation isn't necessary to get the heart of this play. Opus is about the explosive passion we carry in our hearts and the risks that come with either choice: keeping it in check or setting it free.