Film & TV
Surf Flicks and Barefoot Chicks
Peeping Our Way Through SBIFF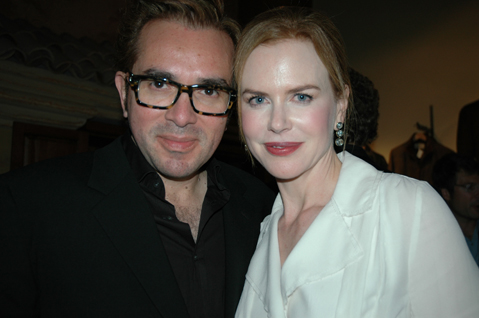 To a certain extent, in life, we are who we are. It's physics. Take the SBIFF for example: the megaphone-bearers will be politely militant, the bartenders will be overly solicitous, and—despite the fact that he's retired the Manic Panic—Film Geek in Chief Roger Durling will never be able to resist donning a different 'do every day of it. I commented on the Cary Grant look preshow one evening, and he invited me to partake of his stylist's services later in the week. While it occurred to me later that perhaps this was one of those invitations one's supposed to politely decline—or perhaps a comment on my ubiquitous ponytail—I accepted.
But first, I had work to do! The fest was in full swing, and Tuesday found me at the To the Maxxx flick A Deeper Shade of Blue—the SBIFF's annual nod to Santa Barbara's wave-riding community, which turned up in force to ogle this piece of stunning surf porn, and kept the party going late night at the Maritime Museum. Wednesday brought the Centerpiece world premiere of That's What I Am—a delightful, Wonder Years-esque story of tolerance—as well as stars Ed Harris and wife Amy Madigan, the rest of the cast, and Santa Ynez-ite David Crosby, first to the Arlington, and then to HobNob for the after-party whose undeniable star was the truffled mac and cheese.
Friday at the Lobero, we settled in (right in front of Winter's Bone's John Hawkes, one of the night's honorees—who proved eminently more endearing than his character) for the Virtuosos, the annual rapid-fire who's who in standout performances this year, which honored Hawkes, Another Year's Leslie Manville, True Grit's Hailee Steinfeld, and Animal Kingdom's Jacki Weaver. Highlights included Weaver's answer to the what-advice-would-you-give-Hailee question (stilettos will give you arthritis in your big toes), and Steinfeld's confession that she needed Jeff Bridges's assistance in the cigarette-rolling scene. The Dude abides. Alas, Steinfeld was the one honoree who did not make it to the after-party at Plum Goods (it was likely past her bedtime).
Saturday, my toes were killing me (the onset of arthritis??), so I set off to meet Roger in his dressing room, heels in hand. There I found him (nowhere near as nervous as one might expect), along with Darlene Darlene Velasquez of Cut Me Some Slack, armed and fabulous. Tools were wielded, product was employed, and I scored a solid inch or two in height. The buzz in the Chopin lounge (the buzz that didn't have to do with Chopin, I mean) was that this would be a tough interview, but Roger, disarming as ever, pulled Nicole Kidman out of her shell. The VIP after-party went down at k.frank, and I quickly made my way to the back in the hopes that Kidman might show.
Staking out this space proved fortuitous; soon enough, Kidman arrived with her publicist—who advised me that the picture-taking portion of the evening was over. Durling—perhaps channeling that cinematic sixth sense?—told me he had a feeling things would play out otherwise. In the meantime, I noticed Nicole had taken off her shoes (Sister!), and took a shot of her bare feet—to run if I couldn't manage a facial—and attempted to make a full meal out of the passed appetizers that had to pass me before arriving at the rest of the party. Three crab-crostinis later, I was summoned to her side. I introduced myself, and asked if she'd mind posing one more time. To which she said yes, "But, I have one request: please don't get my feet."
Later, I made my way home, heels back in hand—where they belong, and where they stayed … until Closing Night, when I slipped them back on while slipping into the Arlington, hair in ponytail, camera at the ready. Back in action. It's just who I am.