Dance
Grupo Corpo at the Granada
Brazilian Dance Theater Makes Santa Barbara Debut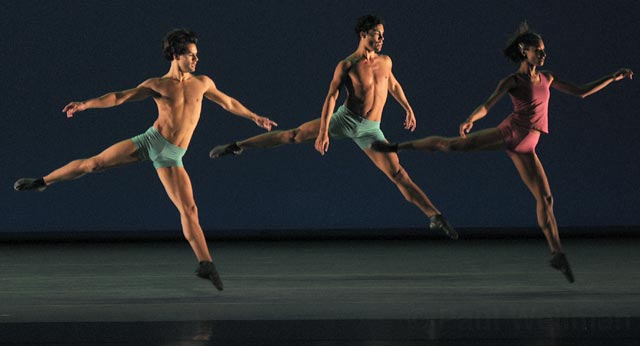 The projection on the scrim is of a Pre-Columbian figurine: a human head molded from red clay. Its expression is blank, its features inchoate, its blind eyes stare out at the audience. Against this backdrop, 19 dancers in dark bodysuits crouch low to the floor like crabs. The whole group rocks slightly, like it's a single organism. Occasionally, a leg shoots up.
In "Parabelo," it often seems the dancers are parts of a larger whole, a parade of ants driven by some deep biological imperative for survival. It's a cheerful army of vigorous athletes, their limbs singing to the vibrant rhythms of traditional Brazilian folk music. But as close as "Parabelo" comes to the pure entertainment of Samba, it keeps pointing back to more primal impulses. In one languid pas de deux, a man carries a woman like a rag doll over his arm. She's so passive she appears nearly weightless, and her feet barely skim the ground. Later, she snaps into action, shimmying her shoulders and swaying her hips in a midriff-baring top along with the rest of them. Like paper dolls, they link their arms and cavort around in trios, legs moving so fast they're a blur.
Choreographer Rodrigo Pederneiras was inspired by the insatiable spirit of the people of Sertão Nordestino, a particularly poor region of Brazil. Later in the dance, the backdrop shifts to family snapshots that might represent these people: a couple standing stiffly and holding hands, a photo of a young man in a military helmet. Beneath these images, the Brazilian beach party gets wilder and wilder: backbends and body rolls, sweat-glistening six packs. The implication is that Brazil is both this and that; the carnival and the dry, barren land, the joy and the struggle. More importantly, it implied that we're all human, and everyone's in it together.
For their Santa Barbara debut, Grupo Corpo paired the 15-year-old "Parabelo" with their newest work, "Ímã." With a complex score by contemporary Brazilian trio Moreno, Domenico, and Kassin and a basis in the abstract notion of magnetism, "Ímã" is distinctly more modern than "Parabelo." Yet there are echoes of the first work, from the opening in the same crab-like position to the almost constant bounding and jumping that follows. In "Ímã," though, there's more pairing off. A man carries a woman across the stage on his hip; two women grip each other at the wrist and bounce off each other's bodies like pinballs. Sometimes it's like a sophisticated version of leapfrog and everyone's having fun, but a slight shift in weight dynamics turns what looked like play into manipulation. Mostly, it's sexy and exuberant, and every dancer is an exquisite virtuoso, tossing off straddle leaps and layouts like they're as natural as walking.