Announcement
Hikers Pass Through Santa Barbara, Marching 90 Miles in Two Days to Show Commitment to Wounded Veterans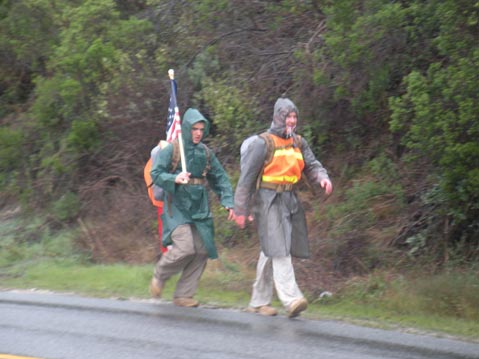 The six Marines of the Spartan Hike, a fundraiser benefiting combat wounded veterans, have decided to take on the ultimate challenge, as a devotion to their fellow brothers and sisters in arms. They are adding 70 more miles to their 425 mile march as they pass through the Santa Barbara area on Friday and Saturday this weekend, totaling 90 miles in just two days.
American Spartan Inc is a nonprofit organization dedicated to assisting combat wounded veterans as they transition back into the civilian world with their injuries. The Spartan Hike is the first fundraiser of the new charity, whose motto is, "Physically inspiring challenges."
Originally, the Marines were going to march about 20 miles each day, totally 425 miles by the time they reach San Clemente on March 5. The long, lonely stretch from Vandenberg Village past Santa Barbara had not been calculated in the hike, as they planned to drive through it. That is, until their leader and founder, Sergeant Daniel Arcand, decided that they could not take the easy way through a difficult journey, because the wounded combat veterans they support do not have that option.
"I wanted to contribute to something aimed at helping the men and women of America. They have sacrificed so much to keep my wife and children safe and I feel that this hike is a small thank you to them," said hiker, Gunnery Sergeant Andrew Klatt.
The Marines will be marching 66 miles on Saturday, Feb 26 and 24 miles the next day, no matter what type of weather comes their way. All hikers readily agreed to the additional miles, as they are committed to bringing awareness and support to the charity. They will spend both nights at Carpinteria State Beach.
According to the Iraq Coalition Casualty Count, 4,481 warriors were wounded in Afghanistan in 2010 alone. Living through combat is only the first step in an uphill battle for the injured service men and women. Support from family and friends is crucial and costly, as many surgeries take place overseas. American Spartan Inc. aims to provide financial assistance to the families, so they may be with their loved ones during this time. Following the surgeries and military discharge, they seek to help the wounded as they transition back into the civilian world and continue their rehabilitation.
American Spartan Inc was founded and operated by volunteering, active duty Marines. The purpose of American Spartan Inc is to provide financial relief and moral support for wounded veterans and their families, with the Spartan Hike being their first large fundraiser. Those interested in learning more about American Spartan Inc and the work they are doing for wounded warriors, can visit their website at http://www.americanspartaninc.com.