Columns
Another Overnight Diary
Tuning in Again During the Wee Hours
The KCSBeat's first overnight diary could never have remained sufficient. In fact, no coverage of KCSB's early-a.m. programming can hope to accurately describe those shifting sands for long. New personalities and new musical tastes flow into graveyard-shift slots with the utmost regularity, offering the grateful insomniac a continually refreshed listening experience. Noticing a particularly promising selection of wee-hour programs on the winter 2011 schedule, I decided to spend a few hours taking in KCSB by night — or, if you prefer, by brutally early morning — and report back from the radio frontier. Take heed: any quarter now, these shows could well air at a time when you're likelier to be awake.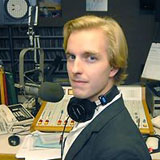 Friday, 6 a.m. At a time when actual chefs must surely be busy with the morning's various preparatory duties, other chefs, broadly speaking, labor in The Musical Kitchen. In the rare moments they speak on the microphone, they announce a menu of "jazz and blues," but this morning's offering feels more specific. R&B songs with a classic sound but a more modern thematic sensibility — I imagine the headliners of the 1950s and '60s didn't sing the word weed quite so often — fall between the kind of chilled-out instrumental tracks that seem designed for play at night but, as the sun rises, take on an almost sinister catchiness. As a bonus, the occasional blues number that drops suddenly into a backdrop of flute, electric piano, and bass — lots of bass — will surely wake you up.
Monday, 2 a.m. Who could resist a show called Beethoven by the Beach? KCSB having had few classical programs in recent years, I find the prospect of any new one exciting, especially one airing at a weird hour that acknowledges the incongruity of the material and the surroundings. But wait — what if it's just a clever title for just another couple hours of middle-of-the-night eclecticism? It's been known to happen. But when host Marittza Padilla says, "I know I'm such a nerd, but I'm going to play for you, starting off, a piece by Shostakovich, his Symphony Number 11," I know the mixing board is in good hands. "It's this epic moment where you just picture armies and chaos," she says of the second movement's crescendo, "going 'Pow pow pow pow pow pow pow!' It's just really great."
Saturday, 2 a.m. I sometimes feel the impulse to build up a stronger knowledge of hip-hop. These thoughts usually come in the middle of the night, when the day's obligations lift and suppressed tendencies run free through one's consciousness. To the rescue comes The Hip-Hop Sampler. If any title has ever indicated an easier way to learn about hip-hop, I haven't heard it. Laid-back host Bennett P puts on what he calls a "journey through the roots of hip-hop," which means an even mix of tracks from this hip-hop generation and those previous, plus a listen to the original tracks hip-hop artists have cut up and reassembled alongside those reassemblages. This guy displays a surprisingly rare grasp on an important advantage of free-form radio: sure, you can share your musical, intellectual, or aesthetic passion on the air — everyone does that — but you can even better go one step further and teach it.
Sunday, 2 a.m. Radio abhors "dead air," i.e., moments when nothing's playing. Enslaved to an especially strong fear of this, given the relationship between listener ears and advertising dollars, commercial radio stations usually put an elaborate apparatus in place to ensure that dead air can never, ever taint their signal. No such precautions at KCSB, where the vigilant listener may — just may — discern a brief patch or two of blessed silence every now and again. Too perfectly, I find that An Unrelenting War on Silencebegins, intentionally or unintentionally, with an almost 10-second stretch of aural nothingness. But then the assault began in earnest with a burst of DJ TravMike and DJ Special Guest's unnaturally high level of 2 a.m. energy. "We're so, so excited about our playlist!" one shouts. "And we're so prepared, too!" responds the other, with a touch of what one suspects might be irony. Prepared or no, the two aggressively fill their allotment of what would otherwise be two hours of hiss with material from various constellations of modern rock and modern not-exactly-rock, artists like Minus the Bear, Flogging Molly, Franz Ferdinand, and The National.
Keep watching this space, ever-curious KCSB listeners, for more dispatches from the overnight hours. The presence of free-form radio in this town guarantees you'll never go a sleepless night without something interesting to listen to. The presence of a free-form radio-hungry KCSBeat columnist guarantees that you need not go without shut-eye to find out what that something interesting might be.