Opinion
Sibling Feud Hits Lundberg Survey Heirs
Oil and Anti-Oil
BROTHERS VS. SISTER: Jan Lundberg, of the famed Lundberg gas-price survey family, rode his bike up to my house in the pouring rain to talk about a real-life Santa Barbara soap opera.
Jan, an anti-oil environmentalist who advocates tearing up pavement, is suing his famous "prophet of the pumps" sister Trilby Lundberg and others over the alleged wrongful death of their mother, Mesa, in 2008.
She was the widow of the late oil guru Dan Lundberg, who in the 1950s founded the survey of thousands of gas-station pump prices, informative to the public and highly useful to the oil industry. The survey hit the headlines during the 1970s OPEC gas shortage panic.
Aside from the question of Mesa's death, you'd have a hard time finding two siblings so philosophically — and publicly — in diametrically opposed camps.
Jan, who doesn't own a car, along with his Santa Barbara brother, Darius, filed suit in Santa Barbara Superior Court last September 13 against Trilby, who took over the Lundberg Survey after their father's death in 1986.
In a 2006 Associated Press interview, Trilby confessed that she didn't know how many miles per gallon her Mercedes got and pooh-poohed the idea of global warming. I left messages for Trilby with her staff at her Camarillo office but got no reply.  
Jan, 58, who lives on a sailboat near Portland and who tore up the driveway of his former home and replaced it with a garden, named Trilby and eight other defendants as allegedly negligent in the death of Mesa, who spent seven years in a Goleta nursing-hospice-respite home.
Defendants include four attorneys, a nurse, and owners of the medical facility, who, because they have not yet been served, may not know they are being sued. Jan and Darius filed suit pro per and are still looking for a lawyer to handle the case. When I informed Charles Sciuto, owner of Toltec Living Center in Goleta, of the suit, he said he was aware of what he termed the "family feud" history and denied any negligence. In the suit, Jan asked for damages in excess of $25,000. He claimed that the defendants "knowingly failed to conserve and protect Mesa's property and finances" and "deprived" her of a longer life due to a lack of proper care.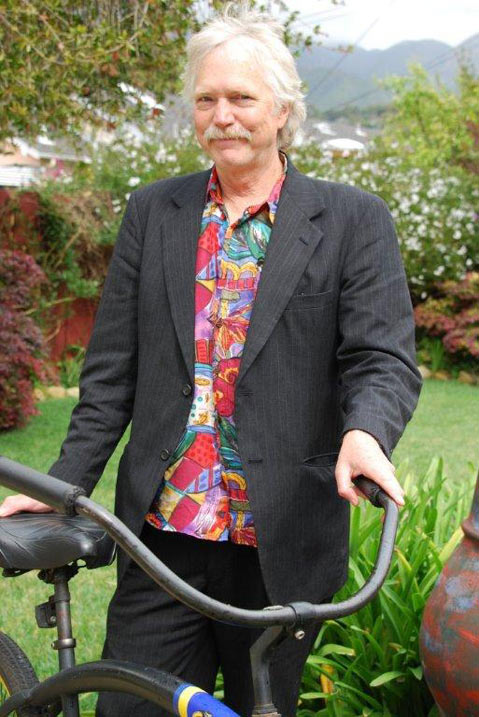 While Trilby also puts out the Lundberg Letter, a newsletter known as the "bible of the oil industry," Jan beams his environmental message and his take on Trilby via his Culture Change blog. Jan's strident message warns consumers of "petrocollapse" due to the global shortage he predicts will hit the world's oil, at least the relatively cheap, easy-to-extract kind.
Ironically, given her close proximity to the oil industry and her opinion that global warming is a mere "boogeyman for political opportunism," Trilby was raised in a highly environmental family, according to Jan. It was "as green as can be," he said in an interview. But now, he said, "She's one of the biggest spokesmen for the oil industry and its agenda."
Trilby, he said, took over the high-profile Lundberg Survey and Lundberg Report after journalist and talk-show host Dan Lundberg died. As a former suit-and-tie exec, Jan helped run the Lundberg Survey, which gathers pump prices from 7,000 stations around the nation. But, he said, he "left the firm voluntarily in 1986 for the sake of peace in the family" and received a settlement.
Trilby, in the 2006 AP story, told of being brought up to play classical piano and said she had no formal business training. "I'm without a mortarboard on my head," she said. "I'm self-made or lucky." She balked at suggestions that she is a tool of the oil industry and condemned the "overzealous meddling" of the Environmental Protection Agency and other federal agencies. Gas and engine modifications aimed at reducing emissions are more to blame for gas price hikes than OPEC, she claimed.
Jan, meanwhile, warns of drastic shortages dead ahead. "The unsustainable U.S. economy and coast-to-coast consumer-economy society that uses more oil than any other nation will keep up its energy gluttony until supplies run out." A "paving moratorium" would have the additional benefit of stopping suburbs from spreading into farmland, he said.
After we talked, I watched him pedal down my driveway getting soaked in the pelting rain, a man of convictions. I can't stop the rain, and I'm not ready to tear up my driveway — yet.
THE RUSSIANS ARE COMING: I had high hopes of getting to St. Petersburg this year. It won't happen. But lo and behold, it's coming to me! The St. Petersburg Philharmonic (founded in 1882 and Russia's oldest symphony) will play the Granada on March 23.
THANKS, NEAL: One of the best days I ever had in the outdoors was on a boat in Lake Cachuma with naturalist/good-guy Neal Taylor. Neal, who gave fly fishing lessons to Nancy and Ronald Reagan and taught kids about the wildlife of Cachuma, died recently at 78. There'll be a potluck memorial at the lake on March 20 at 1 p.m.