Arts & Entertainment
La Traviata at the Granada
Opera Santa Barbara Brought Rebecca Davis, Soprano, on Friday, March 4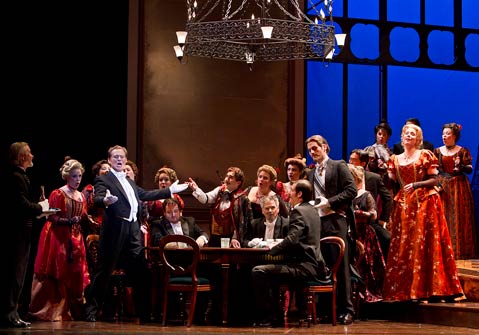 Giuseppe Verdi, with his taste for heated vocal histrionics, flexible and expressive orchestration, and slam-bang dramatic reversals, moved opera toward becoming great street theater. His work is direct, emotional, and sometimes even brutal—just the way that many opera fanatics like it. In this powerful production of Verdi's La Traviata from Opera Santa Barbara, the heroine Violetta Valéry (Rebecca Davis) gets caught between the devotion of her lover, Alfredo Germont (Ryan MacPherson), and the reproaches of his father, Giorgio Germont (Malcolm MacKenzie), who disapproves of their match. Under pressure from two sides, Violetta develops emotionally at a pace that's as rapid as the simultaneous advance of the wasting consumption that will end her short life in an exhilarating flurry of desperation.
As Violetta, Davis acted as well as she sang and delivered riveting accounts of each of her character's crucial arias and duets. Davis consistently demonstrated the kind of commitment to La Traviata's tragic narrative arc required to do justice to Verdi's dramatic writing and did so while filling the Granada with cascades of glorious sound. As Alfredo, MacPherson sang beautifully and made the requisite fuss during the party at the end of the third act, but did not really show his character's full strength until the Act 4 duet, "Parigi, o cara." MacKenzie was both a musical standout and an audience favorite in the baritone role of Germont père, and mezzo-soprano Alissa Anderson gave a memorable performance as Flora Bervoix.
Sets and costumes were suitably luxurious to represent the Parisian demimonde, yet retained a modern simplicity. The country house in the second act made particularly good use of a large window and back projection, and a gently sloping riser employed in Act 3 gave the marvelous dancing gypsies and bullfighters at Flora's party their own smaller stage within the salon set. It's great to see Opera Santa Barbara not only taking full advantage of the technical resources of the Granada but also bringing in the talented dancers of State Street Ballet as part of the spectacle.
Maestro Valéry Ryvkin steered the orchestra expertly through the dozens of quicksilver changes and sudden stops in Verdi's score, suffusing the atmosphere with energy and lighting fuses for all the vocal fireworks. The chorus sang well under the direction of Brent Wilson, chorus master, and there were successful turns from all the members of Opera Santa Barbara's 2011 Studio Artist Program, including especially fine work by Rebecca Fay as Annina and Michael Krzankowski as Baron Douphol.
José Maria Condemi has caught and harnessed the enthusiasm of his company brilliantly with this production, and the resulting crowd scenes overflowed with grace and jubilation. Nevertheless, the heart of any La Traviata lies with the heroine in her journey to romantic oblivion, and thus a reviewer's last words must return to praise of Davis, who embodied Violetta to perfection. Lifted by love out of a life devoted to pleasure, this tragic woman flies swiftly past contentment and on into self-sacrifice, never to return. It's a glorious and deadly trip.