Arts & Entertainment
Vienna Philharmonic at the Granada Theatre
Semyon Bychkov Directs at the Granada on Tuesday, March 1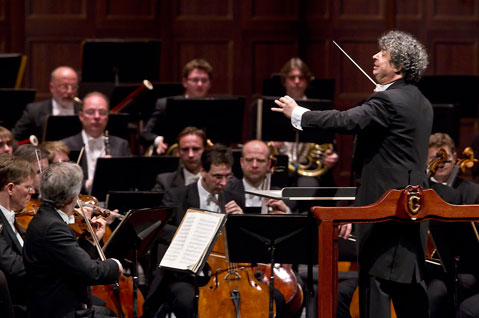 The distinctive sound of the Vienna Philharmonic was clearly in evidence during Tuesday evening's opening piece, the Symphony No. 2, D. 125 of Franz Schubert. The clarinet part in the second movement gave a particularly vivid presentiment of the rich tapestry of colors still to come from the orchestra's winds. By the end of the Presto finale, there was little doubt that this was a powerful group, capable of stunning fortissimos.
Richard Wagner's "Prelude and Liebestod" from Tristan und Isolde followed the intermission. Here, Wagner translated his concept of Liebestod, a death/ecstasy of "eternal union in measureless space," into music that was fiercely precise in its effects. Maestro Semyon Bychkov calibrated the crescendo so effectively that, when the tension finally yielded to huge, shuddering chords of transfiguration, it was easy to imagine that this otherworldly mysticism was exactly what Wagner had in mind.
The Miraculous Mandarin, Op. 19, Sz. 73 of Béla Bartók was a tour de force of dynamics, with the orchestra using its full battery of brass, winds, strings, and percussion to conjure the strident calls, anarchic rhythms, and tart sonorities of the composer's highly eccentric sound-world. After this magic carpet ride of an excursion, the familiar folk melodies of Antonín Dvořák's Slavonic Dance Op. 72 No. 2 and Johannes Brahms's Hungarian Dance No. 1 made for a soft landing of delightful encores.