Angry Poodle
Let Sleeping Dogs Prevaricate
Looking For Truth—and Pulitzer Prizes—in All the Wrong Places
TALL TALE: Last week, they dished out the Pulitzer Prizes, the journalistic equivalent of the Oscars, and yet again, my name was conspicuously absent from the list of honorees. Little wonder. They can't handle my truth, which, in case you missed it, is that there is no truth; it simply does not exist. In my spare time, I invented a brand-new philosophy around this premise. It resolves the age-old conundrum that has long confounded people with too much time on their hands: Is the truth, in fact, knowable? And if so, how can we know if we know it? I'm working on a marketing campaign — "What not to believe in, for people who already don't believe in God" — that should be out soon. Kind of like a Mountain Dew commercial for Xtreme Atheists.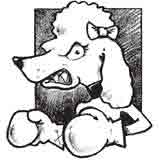 If the high priests of journalism can't handle this, I'm happy to report that the court system is already grappling with its full implications. "Living means lying," opined the 9th Circuit Court of Appeals in a recent ruling that imbued lying with all the 1st Amendment protections afforded free speech. In that case, the high court dismissed as unconstitutional a law making it a crime to say you'd received Medals of Honor while fighting for your country. The case involved a Pomona man, Xavier Alvarez, who won a seat on the water board, in part, by claiming he'd won the Medal of Honor in combat. In fact, he'd never served. In upholding Alvarez's inalienable right to spin the truth however he saw fit, the panel of judges asked, "How can you develop a reputation as a straight shooter if lying is not an option?" (If one can falsely claim military decorations with legal impunity, it remains against the law to fraudulently wear such decorations.)
Perhaps similar considerations were at play last week when a jury could not find baseball slugger Barry Bonds guilty of lying when he denied knowingly taking steroids while under oath before a federal grand jury in 2003. The jury did, however, find Bonds — who willingly shriveled his own testicles in order to become the greatest hitter of all time — guilty of "evading" the truth. While such distinctions might seem puzzling to legal experts, they do reflect a refreshing sense of proportionality. Like the rest of the country, no doubt, the jury was troubled that the federal government would waste seven years and umpteen million dollars investigating steroid abuse in professional baseball, America's national pastime in name only. (It's worth noting the persecution of Bonds was launched under the regime of George W. Bush, not only the most flagrant liar to ever occupy the White House but also the onetime owner of the Texas Rangers.) Just as Bonds should never have been placed under oath in the first place, he should not have lied. Besides, the evidence showed he was an even worse creep and bully than we already thought, having threatened at various times to cut off his mistress's head, cut out her breast implants, and burn down her house. Based on this, the jury couldn't let him off unscathed.
If Bonds lied to a federal grand jury, then Lloyd Blankfein and David Viniar — corporate honchos with Wall Street giant Goldman Sachs — did far worse. According to a 650-page report on the financial meltdown just issued by the U.S. Senate, Blankfein and Viniar lied through their teeth while testifying — under oath — before the Senate Permanent Subcommittee on Investigations. Goldman Sachs, it turns out, made billions by "betting" that the housing market would crash, while at the same time selling gullible investors on the essential soundness of the housing market. Some might say Blankfein and Viniar were just smart — and in fact they are. But on a grand scale, they withheld key information from investors and got stupid-rich doing so. That's called fraud. Then they denied doing so while under oath. That's called perjury. To date, however, no indictment has been served against Blankfein — nor does he have to worry one ever will. The actual details of the scam are beyond the ken of mere mortals, and Blankfein's denials, while absolute, were buttered with enough slippery language to obscure his obvious intent to deceive. Disproving Dick Tracy's maxim — "Crime does not pay" — Blankfein was just rewarded with a $5.4-million cash bonus.
No entity has grasped the utter irrelevance of the truth quite as thoroughly as the Supreme Court. Two weeks ago, the court overturned a $14-million award rendered by a Louisiana jury to former death-row inmate John Thompson — who spent 18 years behind bars for a murder he didn't commit and came within weeks of being executed — after it was revealed that New Orleans prosecutors withheld key information that would have proved him innocent at the time. Prosecutors are legally and morally required to do this; if they don't, it's huge. In Thompson's case, the prosecution withheld crime-scene evidence and blood-test results. They failed to report that one eyewitness to the murder did not identify Thompson as the perp and that another witness had been paid reward money by family members of the victim. Four members of the prosecution team were implicated. In voting to overturn the $14-million sanction, Justice Clarence Thomas broke his unstated vow of silence to opine that Thompson's attorneys never proved that the district attorney, Harry Connick Jr.'s father, was deliberately indifferent to the prosecution's legal duties. Even more bizarrely, Justice Antonin Scalia, who also ruled against Thompson, cited as precedent a case where the Supreme Court sent a man — later proved by subsequent DNA tests to be factually innocent — back to prison for a rape he did not commit. In other words, prosecutors can frame who they want and get away with it. Even if they get caught, the burden of proof has been set so impossibly high that there will be no punishment.
The moral to this story? Even if there's no truth, deception remains alive and well. After all, just because you're an atheist doesn't mean you can't believe in the devil.