Columns
On KCSB, If Not from KCSB
Community Radio at Large
Last week, we discussed KCSB's newly introduced news broadcasts from Al Jazeera English. But those haven't appeared on the station's schedule as the lone out-of-house production. Far from it, in fact. Though the majority of KCSB's programming comes from deejays sitting right there in the control room on the UCSB campus, thus ensuring your recommended daily allowance of content as local as it's possible for content to get, no fewer than five shows come from producers who have nothing to do with the station. Some of them are based quite far away indeed, albeit not quite as far as Qatar. Shared with other free-form stations across the United States and sometimes the entire world, these news and public affairs programs represent the world of community radio at large. If you'd like to work a little more of that flavor into your KCSB-listening mix, a few of your options follow.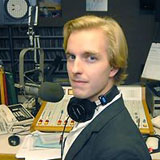 Alternative Radio, which airs every other Monday at 10 a.m., bills itself as "audio energy for democracy," a slogan presumably based on the notion that the wider and more diverse an array of perspectives to which you expose the public, the better-functioning a democracy you get. The brainchild of Colorado broadcaster David Barsamian, a truly famous guy in community radio circles, Alternative Radio has turned countless listeners on to a couple of speakers and writers who have an even more titanic stature among fans of nonmainstream media: the linguist and libertarian socialist Noam Chomsky, and the late historian and A Peoples' History of the United States author Howard Zinn. These two fellows, both of whom hardly need introduction, reflect the Alternative Radio sensibility: deeply concerned with the many and varied types of injustice they see around them, dissatisfied with not just governments but all forms of power both national and international, and pretty darned eloquent to boot.
Fast-forwarding to the end of the week, Friday mornings bring two public affairs programs that approach current events from their own uncommon angles. WINGS, which airs at 9 a.m., flies under an acronym that stands for Women's International News Gathering Service. Only on community radio could you find a program that is not just focused on news by, for, and about women, but is produced by an entity staffed only by women. Heard not only on U.S. community radio stations but across Canada and even as far out in the Anglosphere as New Zealand, WINGS covers subjects eternally relevant to womankind, but also ones that you can get into without being of the distaff persuasion, including homelessness, nuclear power, and, of course, geo-engineering.
After WINGS, Building Bridges airs every Friday at 9:30 a.m. Starting up each week to the oh-so-familiar notes of Miles Davis's "So What," the show offers a "community and labor report," meaning an update on the world of work and those who do it. Hosts Mimi Rosenberg and Ken Nash introduce stories collected from around the world about issues like health care on the job, unionization, child labor, strikes of all kinds, changes in work-related laws, and the history of labor movements. Often, the producers of these segments spice things up with songs, sounds, and poetry, but if any show will ever deliver to you the raw, unadulterated recording of an aggrieved labor leader's impassioned speech to a massed, expectant crowd, Building Bridges is it.
If you've made a habit of tuning in to KCSB on weekdays at 5:30 p.m., you'll already have heard the new Al Jazeera English broadcasts on Tuesdays and Thursdays. But you'll also have heard Free Speech Radio News, which airs at the same time on Mondays, Wednesdays, and Fridays. If, in fact, you haven't heard it, picture FSRN as a version of your friendly local food co-op, except owned and operated by radio journalists instead. Harnessing the awesome power of the Internet, this collective of over 200 reporter-producers gathers fresh global news content straight from the source, whether that news is on Arab hip-hop, anti-presidential protests in Yemen, deportation in the U.K., or a gas leak in Pennsylvania. And if you've been looking for a place to hear Mumia Abu-Jamal's famous reports "live from Death Row," look no further.
And what can I say about Democracy Now! that hasn't already been said, except that you can hear it on KCSB every weekday at 4 p.m.? The everlasting juggernaut of community radio world news, Democracy Now! uses its hour-long "War and Peace Report" to collect and disseminate the words and arguments of people affected by large-scale world events, who are not pursued and interviewed by most news outlets. Host Amy Goodman, who combines a distaste for the sensibilities of corporate media with an old-school journalistic fervor to make sure the hard questions get asked, has turned on a stream of information that some community radio listeners simply can't do without. They can turn on the radio, get properly angered by governmental and corporate abuses of power, and then settle in for a few hours of proto-trip-hop, Peruvian blues, or Scottish folk-rock later in the evening. After all, this is still KCSB we're talking about.
For KCSB's complete program schedule, visit kcsb.org/schedule.