Arts & Entertainment
Dengue Fever at SOhO on Thursday, April 28
L.A. World Rockers Bring New Tunes, Old Swagger Back to S.B.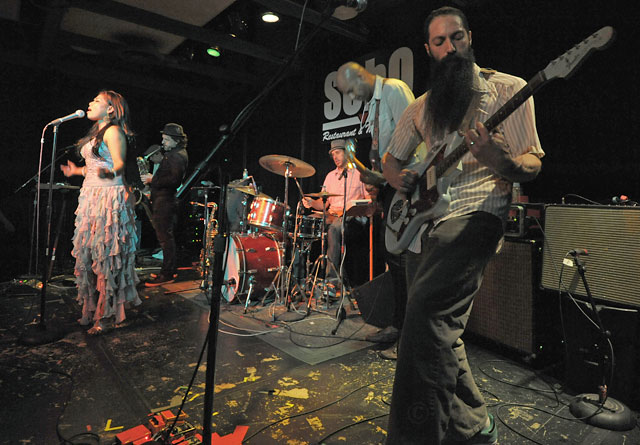 The best live shows are often the ones that blow their recorded counterparts out of the water. On Thursday night, L.A.'s Dengue Fever did just that, swinging by SOhO in support of their latest stellar release, Cannibal Courtship. Onstage, the band gave fans more than an hour of funky, sexy, surfy rock 'n' roll, while frontwoman Chhom Nimol shocked and awed the room with her vocal leaps and pint-sized presence.
S.B.'s own Wetlands opened the show to a small but appreciative crowd. Slimmed down to a four-piece, the funk rockers still managed to pack a big, groovy punch, thanks in no small part to percussionist Miguel León's arsenal of noisemakers. Even without the fan support so often associated with Wetlands' live performances, the night was hands-down the tightest I've seen them, and ultimately one of the best paired opener-to-headliner sets I've caught in a while.
Still, there's no arguing the night belonged to Dengue, who appeared after 10 p.m. to a tightly packed crowd of eager fans. Throughout the night, all eyes seemed to be on Nimol as she belted her way through newer cuts ("Thank You, Goodbye"), older numbers ("Tiger Phone Card," "Integration"), and shared vocal duty with guitarist Zac Holtzman ("Sober Driver," "Cement Slippers"). Swathed in silver sequins, sky-high heels, and a small truckload of bling, Nimol stretched her voice to unimaginable heights in both English and Khmer, making for more opportunities to sing along, plenty of time to dance, and a whole lot of reasons to catch Dengue Fever each and every time they roll through S.B.