Arts & Entertainment
Moody Blues at the Granada Theatre
The Seminal Symphony Rockers Prove They Still Rule on Tuesday, May 17
As if psychedelic backdrops and John Lodge's tight leather pants weren't enough to remind you why the Moody Blues are still touring after all these years, then the band's impeccable melodies definitely did. From Justin Hayward's intricate guitar plucking to Graeme Edge's thunderous drum solos, the Blues' Tuesday-night concert at the Granada left concertgoers with no doubt of the group's continued versatility and musical genius—not to mention their unparalleled ability to sound like the world's smallest symphony orchestra.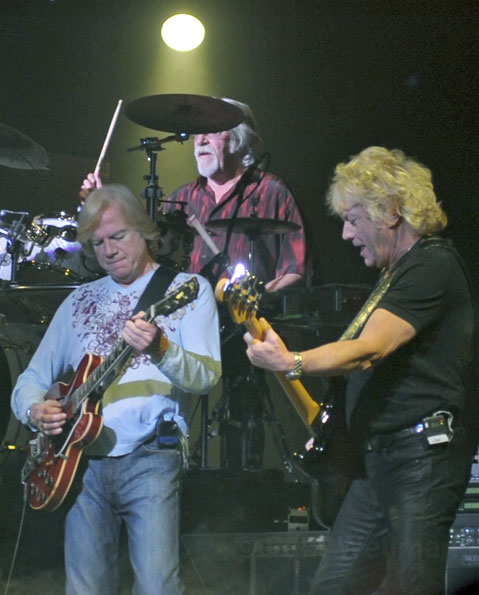 Few bands—and we're talking the Rolling Stones and maybe The Who—can boast origins going back more than 45 years and the vitality that the Magnificent Moodies still do. Within seconds of launching into the "The Voice," a single from the band's 1981 album Long Distance Voyager, the audience was gifted with an orchestration of fiddles, keys, and chords, with Hayward, Lodge, and Edge playing the roles of the song's masterful conductors. Hayward's arched, plaintive vocals still resonate with the same passion heard on the band's oldest records, and only added to guitar-heavy numbers like "Meanwhile" and "I Know You're Out There Somewhere." On the latter, Hayward proved himself a polished guitarist, spewing off licks with skill exhibited by only the most formidable ax men in rock 'n' roll.
With the help of their four talented backing musicians, the Moodies' core ripped into the sonorous tones of fan favorite "Tuesday Afternoon," a number that truly demonstrates why these guys are considered to have pioneered the fusion between rock and orchestral music. Although already fully engaged, the audience truly erupted when Edge took center stage to express his overwhelming delight to still be performing. He then casually segued into the poetically written "Higher and Higher," during which the band sounded like it was literally crashing through the speakers, chords exploding with every beat.
Thanks to the accompaniment of Lodge's bass runs—which do far more than just stand by as support—Blues fans got plenty of the band's ultra-psych-art rock, which has only gotten better over the years. And while some diehards might complain that the setlist didn't pull more heavily from evergreen albums like On the Threshold of a Dream or In Search of the Lost Chord, the get-up-and-go energy that permeated throughout their showing more than made up for any song-selection shortcomings.