Arts & Entertainment
KJEE's Swedish Invasion
Peter Bjorn and John Bring New Album to 2011's Summer Roundup
It was Peter Bjorn and John who penned the whistle heard round the world. And though "Young Folks" will likely remain the band's calling card for years to come, it's certainly done little to dissuade these Swedes from cranking out the tunes. Since breaking through with Writer's Block in 2006, the trio has openly embraced its chameleon-like core, dabbling with everything from instrumental shoegaze (2008's Seaside Rock) to beat-driven pop (2009's Living Thing). In 2011, though, it was time to come full circle and return to the guitar-drum-bass foundation that they built their empire on.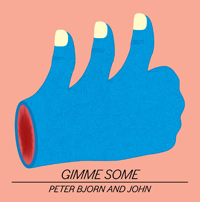 On Gimme Some, Peter Morén, Björn Yttling, and John Eriksson find themselves looking back to their hook-driven, pop rockin' roots, delivering a record brimming with sonically upbeat, unabashedly earwormy tracks. (Listen to singles "Second Chance" and "Dig a Little Deeper," for starters.) This Friday, PB&J return to the Santa Barbara Bowl to play KJEE's annual summer kick-off concert. I recently spoke with frontman Peter Morén about the album, the band, and the seriousness of being Swedish.
How would you compare Gimme Some to past PB&J records? I would say it's more similar to Falling Out and the stuff we did around that period. We've been touring for a long time, and Gimme Some is basically based on live takes. Living Thing was a lot more cut-and-paste, and we were working with keyboards and synths and computers. This is a much more back-to-basics record. It's not that different from Writer's Block; it's just a bit more energetic, a lot like our live shows, with more energy and more punk. We haven't really managed to put that on a record before this one. Sometimes people get surprised that we're so energetic because they've listened to Writer's Block or Living Thing, and then they go see a live show and it's like, oh, this is really different. It was great to do a record that really reflected us. For me it's good to go back to that sound. I like it a lot.
How are the shows going thus far? It's the best record to play live. The hardest songs to get into this set list are the Living Thing tracks, but we've been rearranging them and making different versions to make them fit. It feels great. We try to change the set list every night. Even though we're trying to focus on the new record, the older songs flop around a lot.
Do you feel like the last two records helped to get you back to this place? Everything you do informs what you're doing after, I think, and for us it's a constant progress of doing something different from the last time around. I think that's what we're always trying to do, more or less. We were a bit surprised and taken aback by the success of Writer's Block. We didn't expect it at all. And to make Seaside Rock was more like therapy; it was about going back to the studio and not thinking about singles or hits or pop music even. We just wanted to go back and have fun. It was therapeutic, and I love that record a lot. Then Living Thing was, for us, the big pop record. People think it's really experimental, but that was us trying to make pop music, with less guitar and more beats. It was a bit Depeche Mode-inspired, almost …
All of your songs tend to mix somber lyrics with more up-tempo arrangements. What is it about the sad song that keeps you coming back? If it's personal or if it's political, I write about it to get rid of it—it's a therapy thing. You dwell on things, then you write about them and you feel a bit better. But I also like that it's about different levels in a song; it's not just one-dimensional. I think most of the best pop music has this, maybe not a super-depressive thing, but a melancholic vibe. I think it's really essential to any good pop song to have that "more than meets the eye" element. It's probably a Swedish thing, too. Dark winters and whatnot. [Laughs.]
After almost 10 years, what's the secret to keeping the band together? I think part of it is all the side projects. In the middle of a tour, when you start getting tired of the other guys, you start thinking about the other projects you're doing, whether it's songwriting for other people or a solo record. You think about that, and it takes the pressure of the band off a little bit because you know you can go and do that in your free time. But then, when you're doing your solo things, you start to think about the band and start missing that. And we just play really well together. We have this special chemistry that you can't really get with just anyone. There's something very special in it, and it would be kind of stupid to throw it away. But it's a really up-and-down curve. Certain days you want to quit and others you want to keep it going forever. But we really enjoy playing with each other, and we have a lot left to do, I think. It's really one day at a time, one record at a time, and right now it's a really good period.
4•1•1
Peter Bjorn and John play KJEE's Summer Round-Up with Lykke Li, Foster the People, and Manchester Orchestra this Friday, June 3, at 4 p.m. Call 962-7411 or visit sbbowl.com for tickets.