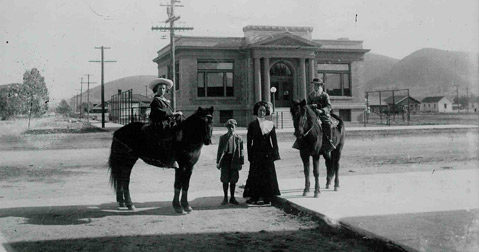 The Lompoc Museum is celebrating the 100 Year Anniversary of the August 14, 1911 opening of the Lompoc Carnegie Library (now home to the Lompoc Museum) with a special summer exhibit. It was a century ago that Lompoc received a $10,000 grant from Andrew Carnegie to build its own "temple of knowledge". The Lompoc grant was one of 1679 made by Andrew Carnegie to 1412 communities across the United States between 1886 and 1919. The size of grants varied widely from the $2,000 grant made to Raymond, New Hampshire for one library to the $5.2 Million grant made to New York City to build 66 branch libraries. Lompoc's own $10,000 grant was typical for towns of its size, matching the grants made to Santa Maria, Paso Robles, and San Luis Obispo, but significantly less than the $50,000 grant made to the larger Santa Barbara.
The exhibit, "100 Years of Carnegie in Lompoc", includes photographs, memorabilia, and documents relating to Andrew Carnegie, his library building program, and of particular local interest – the origins of Lompoc's Carnegie Library. We have been fortunate to locate original correspondence relating to the application and receipt of funds for construction of our Carnegie library among the Carnegie papers at Columbia University. Early photographs and other documents have also been generously shared by the Lompoc Valley Historical Society.
Although this exhibit has involved a lot of work researching and contacting sources from around the country, it has also been a labor of love. We are still hoping to find old photographs of the interior of the Lompoc Carnegie taken before a remodel of its interior was completed by architect Pierre Claeyssens in 1957. We are also interested in old memorabilia related to the Carnegie Library such as old library cards, brochures, bookmarks, etc. If you have anything you think may be of interest, please contact Museum Director Lisa Renken by phone at 736-3888 or by email at lompocmuseum@verizon.net.
The exhibit, "100 Years of Carnegie in Lompoc", opens Sunday, June 26 and runs through October 9. Museum hours are Tues– Fri: 1 – 5 p.m.; Sat and Sun 1 – 4 p.m. Friday hours are extended 1 – 7 pm throughout July and August. There is a suggested donation of $1 for nonmembers over 12.