Dance
Dare Kids to Dance
New Program Offers Free Classes, Airs TV Show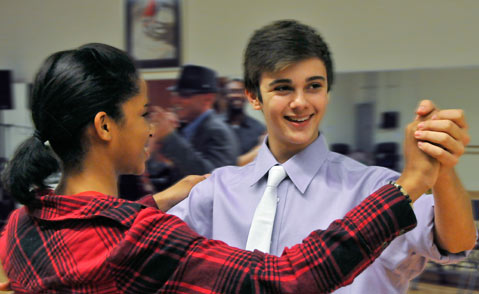 A line of dancers approaches the mirrored wall of the studio, keeping time with the beat of the music. They lean forward, knees bent, and with every step they snap their fingers. On cue, they shoot one arm overhead and then the other, sliding their feet on the floor to create long diagonal lines. As they spin in a tight circle and tilt their hips backward, Michael Jackson's voice calls out to them, as if in encouragement: Showin' how funky strong is your fight. It doesn't matter who's wrong or right …
The class is part of Dare Kids to Dance, a new program aimed at young people ages 10-18. Beginning last March, the program has offered a free, two-hour dance workshop once a month at the Santa Barbara Dance Center. Organizers then invite participants to attend a shoot at the Channels television station, and the resulting show is aired on Channel 17 a few weeks later. In June, workshop participants learned the steps to Michael Jackson's "Beat It," but previous classes focused on a range of social dance styles, including swing, salsa, fox-trot, waltz, tango, and cha cha.
Over the past few years, nationally televised shows like Dancing with the Stars, America's Best Dance Crew, and So You Think You Can Dance have popularized dance as a competitive activity. With Dare Kids to Dance, organizers Judy Scher and Derrick Curtis hope to create a new kind of dance show: one where total beginners are welcome and the only measure of success is how much fun you have.
For Scher, a dance and theater enthusiast who recently relocated to Santa Barbara, Dare Kids to Dance is her way of offering something to the community. Scher is concerned about our culture's increasing focus on social networking and digital technology and believes in the power of dance to connect people in real time and bring lasting satisfaction. "Dance is a skill that will be with you forever," she noted.
In her search for a partner to help create the program she envisioned, Scher found Curtis, a longtime Santa Barbara social dance instructor and choreographer as well as another champion of the art form. Curtis has taught the majority of the Dare Kids to Dance workshops so far. "I love teaching youth," he explained. "I want them to have the opportunity to improve their social skills, fitness, health, and communication. When I started teaching dance in schools, I realized these kids are not in their bodies. In many countries, dance is central to the culture. The only thing our kids know how to do is jump up and down or 'booty grind,' which is not always socially appropriate."
Both Curtis and Scher understand that to the average 15-year-old, a two-hour fox-trot lesson doesn't sound like the most appealing way to spend a Saturday afternoon. "Their first reaction is 'I'm not interested,'" Curtis noted. "They're afraid and intimidated by it." Yet every month he sees preteens and teenagers relaxing as they discover a safe environment and start to enjoy the challenges of coordination, musicality, and partnering.
In a culture where boys in particular are discouraged from dancing, Scher and Curtis are gratified to see male participants showing up to their classes. Among those who attended the June workshop was 14-year-old Daniel Stawiecki, who was back for the second month in a row. "The first time it's definitely a little embarrassing," he admitted, "but Derrick is such a great instructor; it really helps you feel comfortable." Stawiecki said that he has already used some of his new moves at parties and that he's gained the confidence to dance with girls. His 16-year-old brother, John, also attended the June workshop. "I love dancing because you can express yourself through your body and interact with other people," he said.
Workshop participants aren't the only ones benefiting from the program. Scher and Curtis held an audition to find youth hosts for the TV show. They chose 12-year-old Blake Ladd, a natural entertainer and singer/songwriter who's currently working on his first EP, and 17-year-old Sara Weiner, a musical-theater performer at San Marcos High School. "When I got the call that I'd been chosen, I was so excited," Weiner enthused. "Performing is my thing." Weiner sometimes takes part in the monthly workshops and says she's inspired by what she witnesses there. "Being taught dance when you're young teaches you self-confidence and stimulates your brain," she said. "There's no pressure here, so you can have fun and laugh at yourself."
As the program develops, Scher and Curtis want to steer the show away from its current instructional model and to begin featuring teen stars and other professional dancers. They plan to hold an audition for the pilot; those interested can learn more at the program's Web site, darekidstodance.com.
For boys who are still dragging their heels about dancing, Weiner has these words: "In society, men are put under pressure to ask women to events. I think dancing really helps them learn how to do that. Anyway, it's so much more fun to dance with a guy who knows what he's doing."
4•1•1
Dare Kids to Dance airs on Channel 17, Wednesdays at 3 p.m., Thursdays at 8 a.m., and Sundays at 4:30 p.m. For more information and upcoming events, call 450-2498 or visit darekidstodance.com.