Columns
A Surprise Evening of Japanese Jazz
One Night Only
As KCSBeat fans know all too well at this point, I have certain shows I'd like to hear people start up. Given that the station offers its deejays near-unparalleled programming freedom even by the standards of community radio, KCSB hopefuls face a vast broadcasting-possibility space.
Instead of grinding through the hard work of figuring out what sort of a show you'd like to do, why not take a suggestion from your friendly local KCSB columnist? I have two program concepts whose time, I feel, has come. First and foremost: Japanese jazz.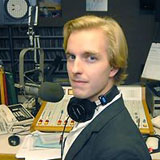 The first of my many mentions of this came when I went digging through the station's vinyl shelves looking for internationally interesting music. Picking up the Terumasa Hino Sextet's album Fuji, I consulted my copy of All-Japan: The Catalogue of Everything Japanese.
"Jazz and Japan shouldn't mix," I quoted the book as saying. "After all, the essence of jazz lies in improvisation—a concept largely absent from both traditional Japanese music and Japanese society as a whole. Japan may adapt, but it does not improvise." So, reason one to do an all-Japanese-jazz show: the sheer oddity of it. But I've also found a second reason: There's a whole lot of the stuff!
I learned this after seizing the opportunity to use an open two-hour slot last Friday night. Its regular KCSBer couldn't make it, so I figured I could use it to make the Japanese jazz show I've so often discussed a reality, if only for one night. If not now, I said to myself, when? With only a few months left before I move out of Santa Barbara, I've got to cram as much free-form radio goodness into my life as humanly possible. Thus, if you happened to be listening between 10 p.m. and midnight last Friday, you caught Nihon no Jyazu—which, creatively, means "Jazz of Japan" — the one-shot show with wall-to-wall playing from the Land of the Rising Sun (not to mention a goofily valedictory sort of atmosphere).
After first finding Fuji again, I plowed into the rest of KCSB's jazz shelves in search of Japanese players alone, Japanese players with other Japanese players, Japanese players with Western players, and Western players playing in Japan. These subcategories yielded a couple dozen records each. Japan, it seems, has cultivated an insatiable population of not just jazz players but jazz listeners, who demand to hear not just homegrown jazz but to have Western jazz brought to them. Eventually, I lost count of all the Live in Tokyo albums I pulled from the likes of Johnny Griffin, Monty Alexander, Eddie Condon, Roy Ayers, and so on.
The evening ultimately brought together those American jazz stars (well, Alexander was raised in Jamaica), laying it down in Japan, and artists with such fun-to-pronounce names as Makoto Ozone, Fumiyaki Miyamoto, Akuma, Eiji Kitamura, Toshiko Akiyoshi, Sadao Watanabe (a crossover Japanese jazzman if ever there was one), and Masayoshi Takanaka. The sounds ranged from solo-heavy classic stuff to big band to abstraction to smoothness to late-seventies fusion and, at times, on to sheer strangeness — all while hardly scratching the surface of the assembled album stack, let alone of the totality of Japanese jazz itself. If you missed it, never fear: You can stream the show right here.
As for the other program concept I long to hear: Don't you think we must have a show that spins nothing but the releases of beloved cerebral instrumental label ECM? I'll see what I can do about that desperate need.