Briefs
Discussion and Drama at Gang Task Force Meeting
Gus Frias Reports on His First Half-Year as Coordinator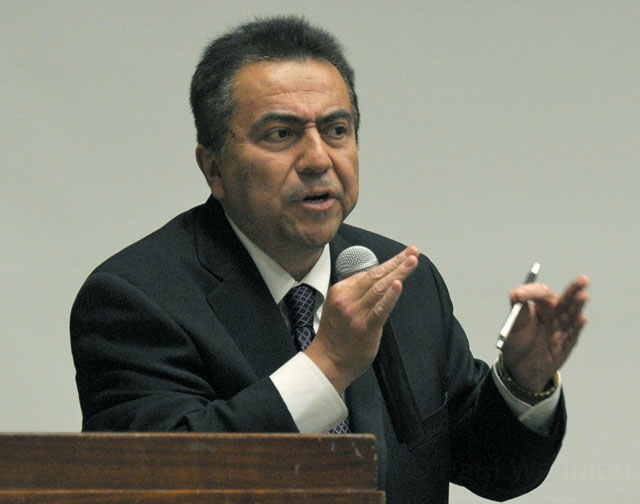 Gus Frias, the recently appointed coordinator of the South Coast Task Force on Youth Gangs, appraised his first six months on the job last night at an executive council meeting at the Faulkner Gallery. Although he claimed that he would focus on positives, he noted that Goleta, Santa Barbara, and Carpinteria's prevention and intervention programs have plenty of room for improvement. He shared the statistic that only 40 percent of the programs are evidence-based and 53 percent "do not use client-specific assessment," meaning that they do not survey or question each individual youth that they serve.
The South Coast is home to six major gangs with 150 active and 750 associate members. It is also home to several programs aimed at preventing kids from joining those gangs or helping them to extract themselves from them. Frias's job is to improve the collaboration between and efficiency of all these resources. The task force comprises a medley of members from disparate organizations such as city and county governments, the Santa Barbara Chamber of Commerce, clergy, law enforcement, and school districts.
According to a survey Frias sent out to 100 local leaders, the South Coast's most refined prevention programs are focused on secondary school students. He would like to see more programming at the elementary level, more parent education. and better evaluation of existing programs.
Among his accomplishments Frias listed a March symposium on street gangs and school safety which city staff recorded and is currently being edited down to half an hour so it can be broadcast on television. He has also helped update school safety plans.
Diminutive in size, Frias presents a towering voice at the podium. He is one part motivational speaker—a human PowerPoint presentation replete with unlimited bullet-pointed nuggets of wisdom—and one part pulpit preacher. (He even tells children they need to learn how to pray to cultivate their spirituality.)
"After a while," 1st District Supervisor Salud Carbajal said of Frias's rhetorical performances, "they are going to sound like sermons." Carbajal expressed impatience with the task force's progress, saying that he expects goals, timelines, and measurable data. He also called for an overarching "tangible, strategic approach" to dealing with gangs on the South Coast.
Frias was followed by Police Chief Cam Sanchez and Jim Peterson of the Sheriff's Department. Both said that gang violence is significantly down. Sanchez said, however, that property crime is up and that there have been several home break-ins the past two or three months.
The highlight of the meeting, though, was a performance by the Drama Kings, a theater group from Los Prietos Boys Camp and Academy which is run by County Probation. Five boys told stories about the arrests that landed them in the camp. They reenacted their camp orientation and read letters that they wrote to their younger selves.
Second District Supervisor Janet Wolf told the boys, "We care about kids and we care about kids who are in gangs." She then asked them what the community might do to help prevent youth from joining gangs. They answered that they may have benefited from more activities and programs like those offered at Los Prietos.
When questioned by meeting attendees about their delinquency, the boys, who did not share their full names, told stories about broken families, substance abuse, and emotional pain. One said his two brothers were just sentenced to lengthy jail sentences on two consecutive days.
A woman who happened to be passing by the Faulkner Gallery when she saw the boys performing and found herself a seat said, "There's a lot of good theater in Santa Barbara, but this was the best."
The next executive meeting will be held in another six months when it will become more clear whether the task force's efforts at coordination are making a difference or are just more theater.