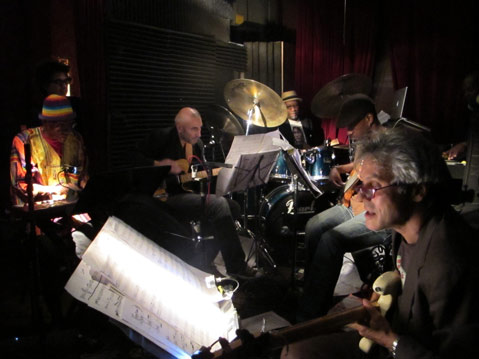 MONTREAL JAZZ: It's early Monday morning (the crack of 10:30 a.m.) in presently jazz-consumed Montreal, and four kindly jazz world powerhouses are gathered around a table. In this modest meeting sits some of the foundation-laying forces in jazz as we know it, over the past fifty years or so. The setting: the 32nd Montreal Jazz Festival's Salle de Presse. The players: jazz festival promoter /producer/pianist George Wein, being feted with the festival's Bruce Lundvall Award , presented by Blue Note Records head Lundvall himself—who called the 85-year-old Wein "the youngest man in the music business–"and Montreal festival founders Alain Simard and Andre Menard.
Simard remembered a time when he was long-haired idealist in the '70s, with a crazed idea of starting a fest in Montreal. He went to New York to meet with Wein–"the father of jazz festivals," who started the seminal Newport Jazz Festival in 1954—and the veteran kindly told him "don't do a festival in Montreal. You'll lose your shirt." On this morning in 2011, Simard laughed the laugh of the last laugher, as by now, Montreal's grand event is, to quote Wein himself, "the best in the world, hands down." Many are inclined to agree.
During the back and forth and Q&A session, Wein grabbed the heavy glass award and grinned, "this could be a weapon." Yes, a weapon in the service of cultural good, the holy and ever-challenging cause of jazz.
That old dense magic was in force again last weekend, the first wave of action in a festival continuing through Sunday. Prince put in a pre-festival kickoff on Friday and Diana Krall, whose own career was partly launched here, had three rare solo shows. Free shows keep the traffic-closed streets pumping with sounds, while venues in the sprawling "Place des Arts" complex (more theaters than Lincoln Center) and outlying rooms—all within walking distance—make this zone feel like the jazz center of the universe for a week-and-change every summer.
For hopeless lifer jazz fans who seek out the live stuff like devotees to sanctuaries, especially those without easy access to the jazz Mecca of NYC, jazz festivals can be powerfully alluring, and dangerously addictive. It's a way to gain access to a compacted dose of artists, known and not-yet-known to us.
New voices here included the sassy fine young British singer Eliza Doolittle (like Amy Winehouse without the self-destruct button), and the wonderful and intellectually lights-on pianist Dan Tepper. Tepper was slated to appear with his legendary colleague Lee Konitz in the sweet downstairs jazz club in Montreal called Upstairs, but Konitz was sick in an Australian hospital. Enter another seasoned luminary, bassist Gary (Keith Jarrett trio member) Peacock, making for a highly empathetic duet encounter.
SO GOES LE MONDE DU JAZZ: Despite the relative scarcity of world-class jazz passing through Santa Barbara (even less this year, given the UCSB Arts & Lectures' jazz-free program next season), it's encouraging to realize that the concerts which have landed here and left potent memories have artistic voltage on the international scene. And jazz' international scene can be gauged quite well by looking at Montreal's festival grid: what happens in Montreal does not stay in Montreal. For instance, there was the almost-inevitable inclusion (and fast sell-out) of Esperanza Spalding's Chamber Music Society program, one of the greatest shows in Santa Barbara this year (at Campbell Hall, just after her winning the Best New Artist Grammy). Alto saxist David Binney, the Venturan-turned-New Yorker who played an awesome show at the Piano Kitchen in SB, brought his quartet for a show on opening night at Montreal. From the "world" zone, the sweet 'n' deep Milton Nascimento triggered fond memories of his Campbell Hall visitation not long ago.
And, late one night at the Gesu-Centre de Créativité, piano master Brad Mehldau gave one of his rapturously good solo piano adventures, reminiscent of the great solo night at the Lobero last year (and that a warm-up for work which would be released on Nonesuch). What cerebral enchantment Mehldau can coax and sculpt from tunes by Radiohead and the Beatles ("Blackbird" and "Hey Jude," both respected and radically revisited), "My Favorite Things" and other excuses to head into his own private, virtuosic cosmos, is like nothing else in jazz at the moment.
In another Lobero link, six degrees or so down the line, one of this year's multi-concert "Invitational" series stars was the ambi-genre guitarist Marc Ribot, who we heard in T-Bone Burnett's band at the Lobero a few years ago. A man of many hats and styles, Ribot is ideally suited to the "invitational" series. He may lure the larger audiences through his side work with the Burnett, Elvis Costello, Tom Waits and many others, but this is a downtown New Yorker with ideas and projects that won't quit. Over three nights in Montreal, he brought his avant-prog-surf-rocking trio Ceramic Dog, his undulant cool old vintage-y Cuban party band, Los Cubanos Postizos, and best of all, a fascinating project called Caged Funk. Here, spinning off of pieces and concepts by the late, great American avant-gardist John Cage, Ribot brings a sextet of players, including guitarist partner Marco Cappelli and drummer JT Lewis, and makes voodoo-style Miles' jazz-funk fever and silence-savoring abstractions. Gets my vote as best of show, of the handfuls I caught here. But that's just me.
WHEN IN MONTREAL AND HANKERING FOR SOME DESIGNER POUTINE DEPT.: Get thee to La Banquise in the hip Mont Royal area, and order up, f'rinstance, the "Poutine Jaco," avec ground beef, onions, mushrooms, and pepper sauce, piled high on an undersized plate. Wash it down with a Belle Geuse beer. Repeat.
RE-PERCUSSIONS ON HIGH, IN TOWN: it's a distinct flavor of pleasure when Brazilian percussion great Airto Moreira comes back to the town where he lived for many years, with his wife Flora Purim and children in tow. Now a Los Angeleno, and world citizen by nature and profession, Airto played SOhO seven years ago, showed up at the first Solvang Jazz Festival in an all-star show, and here he comes again next Thursday, July 7. This time, he joins another singing family member, his daughter Diana, and her band Eyedentity. Check it out.
Fringe Beat has gone cyber, facebooked and twittered (@FringeBeat), and myspaced and ?. Please join, if inclined.