Arts & Entertainment
Music Academy Season Preview Part II
Richard Feit Talks History, Composers, and Candelabra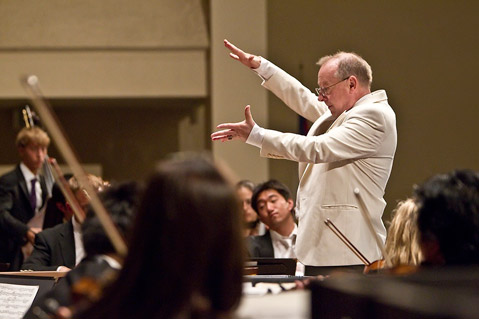 In this installment, Music Academy programming guru Richard Feit ponders the influence of Rossini on Schubert, the thrills of the baroque, and more. You can find the first half of our talk online at independent.com/maw2011.
Tell me about what you have planned for your early music specialist, Maestro Nick McGegan. Nicholas McGegan has become a real favorite of the fellows, and his Academy Chamber Orchestra concerts are always among the season's highlights. He's just so full of joy and willing to communicate his insight into historically informed performance practice. It's a very different way of listening and understanding music. The way I hear it, it's almost like a jazz approach—when McGegan conducts Bach, the ensemble is really swinging. This year, they will play Bach's Concerto for Violin and Oboe in C Minor, BWV 1060. Also on that Chamber Orchestra program is something weird and wonderful by Vivaldi, his La tempesta di mare. From Jean-Philippe Rameau, that crazy and cranky genius, we have Dardanus, another ocean piece, complete with sheets of thunder and a sea monster. Finally, there will be a period-style performance of Beethoven's Symphony No. 4 in B-flat Major, Op. 60. Nick McGegan will be coaching the strings on how to play that with the period bow—in early music practice, vibrato is completely different. That concert is on Saturday, August 6, at First Presbyterian Church.
How are the faculty recitals on Tuesday nights shaping up? The intent with the Tuesdays at 8 series this season was to broaden the definition of what's "classical" to include more kinds of music. That's why we are starting with George Gershwin's Three Preludes and why we will be turning later on to the work of the Alaskan composer John Luther Adams. Our guest artists always contribute a lot to the Tuesdays at 8 series, and this year is no exception. On the third Tuesday, July 12, Ursula Oppens will be dropping by on her way to Tanglewood. That entire program will be given over to music written for two pianos, and Ursula Oppens will join Jerome Lowenthal for the Visions de l'amen of Olivier Messiaen. I think we could put candelabra on the piano for Tuesday, July 19, the night that soprano Christine Brewer will be singing. She and pianist Warren Jones have a set of café music planned that they are calling "Echoes of Nightingales." And for the final Tuesday concert on August 9, New York Philharmonic concertmaster Glenn Dicterow and his wife, violist Karen Dreyfus, will be on hand. Both Dicterow and Dreyfus are extraordinary teachers, and their string chamber master class on Thursday, August 11, will be very exciting.
What are some of the things that interest you about this summer's opera, Rossini's The Barber of Seville? The Barber of Seville was what is known in theatrical parlance as a flop when it first opened in February of 1816. There were a number of accidents that night, ranging all the way from a broken guitar string for Almaviva to someone inadvertently falling through an onstage trapdoor. There was also the matter of Rossini's rival, Giovanni Paisiello, who had already written a different opera using the same source material. Apparently, Paisiello sent his fans to disrupt the performance, and they hissed and booed through the entire performance. Of course, it was not long before people realized that Rossini's Barber was the great one, and it has remained one of the most popular things in the repertoire ever since. One interesting and lesser-known connection that might interest people is that Franz Schubert, who is quite well represented in our Tuesdays at 8 offerings this summer, was influenced by Rossini. In fact, it is sometimes said that it was not until Schubert heard Rossini in 1817 that the spell cast on him by the music of Beethoven was broken.
4•1•1
For tickets and information about any of the concerts and programs offered by the Music Academy of the West, call 969-8787 or visit musicacademy.org.