Bottles & Barrels
A Time and a Place for Arcadian Wines
Speaking with Winemaker Joe Davis About Bottles Old and New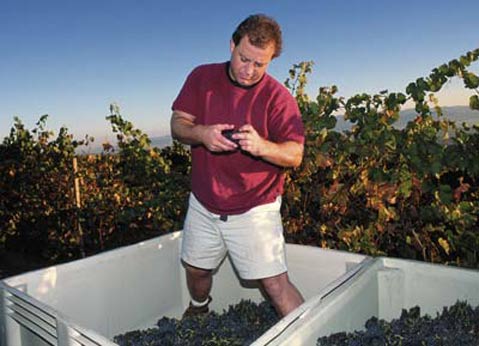 One of the most thrilling characteristics of a great wine is its magnetic allure — the way its flavors draw you in like the spiral of a seashell and haunt you long after the last swallow. After sampling Arcadian Winery's current releases along with the mesmeric 2001 Gary's Vineyard Pinot Noir, only one word seems to accurately describe their ethereal flavors and age-worthy grace: spellbinding.
"I think that all of us have a bottle of wine that impacts us so powerfully that it follows us around for the rest of our lives," said Joe Davis, winemaker and owner of Arcadian Wines. For him, that wine was a 1978 Clos de la Roche Grand Cru Domaine Dujac that he tasted during his college years. It so profoundly touched him that it changed the direction of his life and each day continues to inspire his work.
Davis grew up on the Central Coast in a family of fishermen. Family meals, simply prepared feasts that centered upon the freshest catch, and, of course, wine, were an integral part of his childhood. While studying forensic sociology at the University of Puget Sound, he took a job at a wine shop — a gig that inspired him to enroll at UC Davis's enology program and eventually take a winemaking position at Morgan Winery in Monterey.
"I've always wanted to shake people to their core like that Dujac shook me — to capture the essence of a vineyard and carry the message to someone who has never experienced it," he explained. While honing his craft at Morgan and Bernardus wineries over 10 years, he came to believe that commercialized winemaking left too much of the winemaker's identity on the wines — they were over-manipulated. These wines expressed a sense of "someoneness" rather than the "somewhereness" he hoped to communicate.
In 1994, Davis traveled to Burgundy to work with and learn from Jacques Seysses, the winemaker he most admired. During his two years at Domaine Dujac, he recognized fundamental philosophical differences. He observed how deeply connected French producers are to their land and the way their wines paid homage to those individual sites. Upon his return to the states in 1996, Davis selected a handful of vineyards — Sleepy Hollow, Clos Pepe, Fiddlestix, Gary's Vineyard, and Pisoni — and began crafting wines that he felt communicated a sense of place under the Arcadian label. Today he produces 5,500 cases using traditional French methods: cold soaking, pigeage (foot stomping), whole-cluster pressing, and fermentations that continue in barrel.
Why taste place? "For all of the reasons we want to feel connected to where we are," Davis explained. "These wines are not about me, my ego, or my ability as a winemaker. They are about sharing the vineyard, the soil, and that spirit with others."
To do so, Davis feels that it's important to eliminate intervening variables, a crucial one being cooperage. Whereas many winemakers use oak barrels from a variety of forests and coopers to produce diversity of flavors, Davis uses the same custom-made barrels for all of his wines. "It's simple science," Davis explained. "Before you can have a conversation about how your wines reflect a sense of place, you have to ensure that your techniques are consistent across the board. That way, when your palate senses spice or earthiness, you can be sure that it's purely the soil and nature showing through."
Besides relying on the vineyard to provide complexity in his wines, Davis relies heavily on time. Following his old-world philosophy, he produces wines intended to age for several years prior to drinking. "I pick grapes envisioning where the wine will be in five to 10 years," he said. In fact, he only recently released his 2005 vintage. To ensure that his wines age gracefully, he makes certain that the "bricks and mortar" — the tannins, pH, and alcohol levels — are in balance.
Only after significant time in bottle, can a wine's profound beauty — the intimate details and delicious idiosyncrasies — be fully savored according to Davis. This evolution he attributes to intricate iso-electric connections between acids, sugars, alcohols, esters, and phenolic compounds that are established over time within the bottle. These web-like connections provide complexity in the form of secondary and tertiary flavors, as well as a myriad of aromas that emerge from the glass. "Time offers wine an opportunity to evolve, to grow deeper, and mature," he rhapsodized, swirling the wine in his glass.
Davis compares young wines to primary colors: red, yellow, and blue, adding that it takes time for wines to develop subtle tonal variations and colors like slate blue, turquoise, and Cerulean. "There's nothing wrong with drinking wines young," he said. "But it's important to recognize that you're experiencing them in their simplest state — and that you may never see Midnight Blue."
See arcadianwinery.com for more info.