Announcement
"Where's Your Bag?" Prize Patrol at Lazy Acres!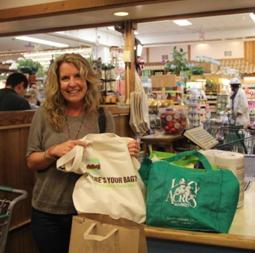 Kathy's groceries were loaded into several reusable bags that she brought with her to the store. Kathy won a "Where's Your Bag?" canvas bag full of goodies, including a gift certificate to Lazy Acres, Metropolitan movie passes, SB Channelkeeper T-shirts, a CEC lunch tote and a C'est Cheese gift certificate.
Said Kathy, "I've been bringing reusable bags with me to the store for a couple of years now. Putting them on the front seat next to me helps me remember to bring them in." "Where's Your Bag" salutes shoppers like Kathy who bring reusable bags instead of single-use disposable bags. We also thank partners like Lazy Acres who promote reusable bags by offering a 5 cent rebate to shoppers. According to Lazy Acres Marketing Manager, Rudy Chavez, through the 5 cent rebate program, the store has refunded over $8,700 to customers using reusable shopping bags in one year. This has kept at least 175,000 single-use bags from the landfill.
About "Where's Your Bag?"
"Where's Your Bag" is a comprehensive voluntary single-use bag reduction program. The City of Santa Barbara's Environmental Services Division, in conjunction with local partners Santa Barbara Channelkeeper, Choose to Reuse, Tri-County Produce, and the California Grocer's Association, are working together to educate our community about the negative impacts of disposable shopping bags and to encourage an easy solution- to bring reusable bags for all your shopping needs. "Where's Your Bag?" participating stores include: Albertsons, Cantwells Market & Deli, Foodland, Lazy Acres, Ralphs, Santa Cruz Market, Scolari's, Tri-County Produce and Vons. Prize Patrols are randomly conducted at participating stores.
Single-use bags have measurable negative impacts on the environment and "Where's Your Bag?" aims to educate the community about the problems associated with using them and an easy solution – bringing reusable bags whenever you shop. For questions about the "Where's Your Bag?" program, please contact Kathi King at kathibking@gmail.com.