Arts & Entertainment
Eddie Vedder at the Santa Barbara Bowl
Pearl Jam Frontman Plays Solo Acoustic on Saturday, July 16
The sun was still up when Irish musician Glen Hansard began his opening set at the Bowl last Saturday night, warming up the crowd for headliner Eddie Vedder. Hansard, best known for his Academy Award-winning song, "Falling Slowly," from the Once soundtrack, facilely moved from lilting to fiery vocals on "Leave," "Low Rising," and a cover of Van Morrison's "Astral Weeks." It was an excellent beginning to an amazing night of acoustic music.
A few minutes past 8 p.m., Vedder sauntered onstage to a standing ovation. He opened with "Can't Keep," from his recent solo album Ukulele Songs. Four more uke songs followed before Vedder switched to acoustic guitar. "Everybody get comfortable. We are gonna be here for a while," he told the crowd.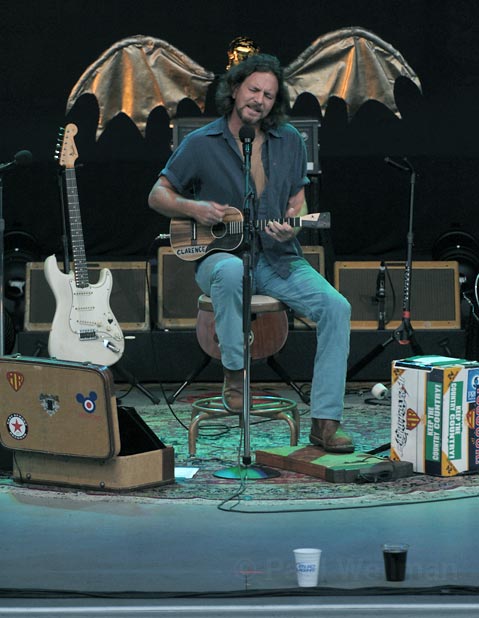 True to his word, Vedder entertained for two more hours, playing Pearl Jam songs like "Wishlist," "Off He Goes," "Unthought Known," and "Parting Ways," as well covers of Nine Inch Nails' "Hurt," Neil Young's "The Needle and the Damage Done," and Bob Marley's "Redemption Song." His rich baritone and crackling vibrato were particularly beautiful on the Beatles' bittersweet "You've Got to Hide Your Love Away."
At the end of the night, Hansard joined Vedder onstage for a few duets, including a gorgeous version of "Falling Slowly." Vedder closed with his ukulele rendition of "Dream a Little Dream of Me." "I feel like I could play for another hour," Vedder said at the close. "But then they wouldn't let me come back, and I'm looking forward to that already." So are we.