Arts & Entertainment
Bleached Releases Vinyl 7"
L.A. Sister Duo Makes its Mark in Punk Scene; Performs at SOhO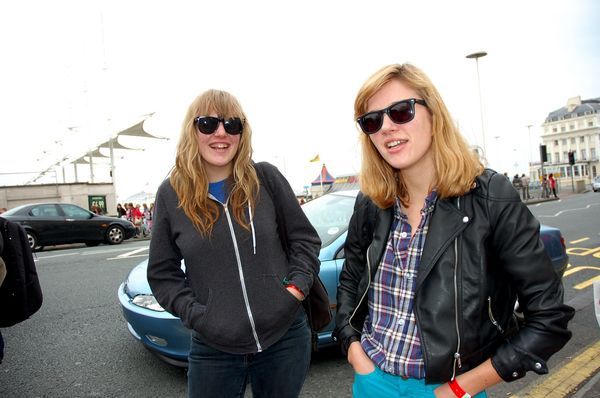 n their second major release as punk rock band, L.A.-based Jennifer and Jessie Clavin, who comprise sister-duo Bleached, came out with two singles Wednesday on a release called "Carter" 7".
Distributor Art Fag Recordings released their two new songs — "Think of You" and "You Take Time" — on 500 7" vinyl records. The songs were also released online.
"My sister and I have always been really into collecting vinyl," Jennifer said of the band's decision to release their music on a throwback medium. "We love that people still play records."
Bleached may have a hit with side-A track "Think of You," an upbeat pop-punk tune influenced by the Misfits and the Ramones that is already receiving positive reviews online. Catchy side-B track "You Take Time" — which is influenced by the Rolling Stones and Fleetwood Mac — also promises to appeal to the band's growing audience.
Although Bleached is still less than a year old, the Clavin sisters have been in the music industry together since 2003, when they joined L.A. rock band Mika Miko. After Mika Miko broke up at the end of 2009, the sisters briefly parted ways. Jessica joined L.A. band Cold Showers and Jennifer performed with New York-based electronic band Cold Cave.
The sisters spent much of 2010 pursuing their separate projects, but reunited when Jennifer left Cold Cave to move back to L.A. After years of performing with other bands, they decided to create their own music and formed Bleached.
Since putting out their first 7", titled "Francis EP," in March, the Clavin sisters have found fulfillment and success in making music. The Clavin sisters split up their work evenly, with Jennifer writing song structure and lyrics while Jessica composes baselines and melodies on top.
"This is the first time I'm writing all the songs," Jennifer said. "I think it's some thing I've wanted to do for so long that it's coming easy to me."
This summer, Bleached is on tour, having just made an appearance in Santa Barbara on July 10, when they opened for indie band Best Coast at SOhO, which featured an enthusiastic crowd.
Looking forward, the Bleached plans to release their third 7" in October before putting out a full-length album in spring or summer of 2012. In the long run, they say they want nothing more than to keep producing music.
"We just want to be in a rock 'n' roll band and do that all the time," Jennifer said.
4•1•1
For more info, see myspace.com/hellobleached.