News
Jail Fights Lead to Lockdowns
Authorities Blame Inadequate, Overcrowded Facilities; Latest Violence Takes Place on Transport Bus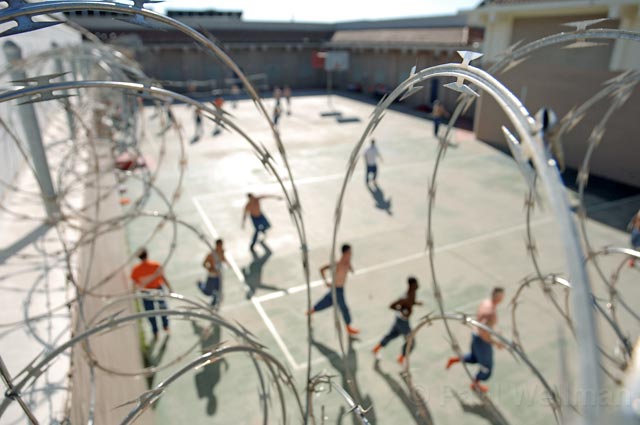 After the Santa Barbara County Jail saw six fights in 10 days, yet another melee broke out Tuesday morning in a bus on its way to deliver inmates in Santa Maria for court appearances.
That altercation involved four individuals who were removed from the transport and taken back to jail. The bus, which was carrying 40 inmates total, pulled into the northbound Gaviota rest stop to await assistance, and Sheriff's deputies along with CHP officers responded to help.
According to the Sheriff's Department, an investigation is ongoing. Only minor scrapes and bruises resulted from the fight, and no law enforcement officials were hurt.
But the incident is the latest in a serious of scuffles that have brought attention to the overcrowded jail facility in Goleta. The fights began on July 4, which put the jail in lockdown for a day. A week later, on July 11, a few smaller fights broke out that didn't require a lockdown; however, later that day, a clash occurred involving 15 or more people, an "obviously a planned fight," said Sheriff's Department spokesperson Drew Sugars, that sent two people to the hospital with head injuries. The large-scale brawl forced a facility-wide lockdown.
Lockdowns can be specific to one area of the jail, or extend facility-wide. Though not punishment, the lockdowns restrict things like movement, visitations, and other privileges so law enforcement can gain control of the situation.
Sugars said Monday that detectives initially thought the altercations were related to Hispanic gangs with ties to the state prison system, but authorities are still trying to determine what those ties are and what exactly happened. In an interview Tuesday, Sheriff Bill Brown called the fights a "rash of unprovoked attacks by inmates on other inmates," and said the engagements have largely been provoked by Hispanic gang members taking on white jail inmates. No other specifics on those allegedly involved were available, and officials have been careful when speaking about the fights.
Two days after the July 11 scuffle, authorities began to lift the lockdown, one section at a time. After one particular area was opened, though, yet another fight broke out among six people, sending another inmate to the hospital.
Detectives are still sorting through who did what, Sugars said, though charges are expected to be filed. The jail is video monitored, and the attacks were captured on camera. District Attorney Joyce Dudley said Tuesday afternoon her office had not yet received any reports from the Sheriff's Department.
The changing jail population has made controlling the aged facility more and more difficult. The inmate makeup has shifted dramatically over the last 20 years, and, in addition to being overcrowded, the facility is inadequate to house the alleged serious offenders it currently holds. Those serving post-conviction sentences in jail (which must be one year or less, usually for misdemeanors) used to account for more than 50 percent of the population. Now, that number is closer to 25 percent, while the number of pre-sentence inmates—those awaiting trial—make up 75 percent of the population. Only one-third of the facility is designed to house those inmates.
According to the District Attorney's Office, there has been a 311 percent increase since 2000 in the number of murder and attempted murder cases it takes on. As well, there has been a 1,422 percent increase in gang-related cases, according to statistics. "There are fewer and fewer options to move people around," Sugars said.
Because of overcrowding, law enforcement agencies are already having to cite and release suspects for crimes they would've normally dragged suspects to County Jail for. And the county will soon be dealing with the arrival of roughly 300 new inmates and 300 new parolees beginning in October, as the state tries to shed some of its cost burden as well.
Currently, a committee comprised of various local agencies is preparing a plan for how to deal with the incoming caseload of people, a plan likely to include a bump in alternative programs and expanded electronic monitoring, given the inadequacy of the custody infrastructure.