Sports
Playing Footy
Manchester United Puts on a Bloody Good Show Against Seattle Sounders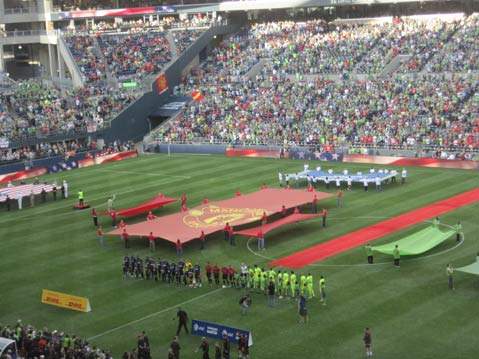 Seattle boasts the professional counterpart to UCSB's "Soccer Heaven" (aka Harder Stadium, the country's most lively venue for college soccer). The Seattle Sounders have set Major League Soccer (MLS) attendance records the last two years—an average of 36,173 in 2010—and last Wednesday, July 20, the upper levels at CenturyLink Field were opened up to accommodate a throng of 67,052 for a friendly match between the Sounders and English Premier League powerhouse Manchester United.
United's worldwide fan base, built on a legacy of tragedy (a 1958 plane crash) and triumph, numbers in the many millions. Their supporters, decked out in the Red Devils' home jerseys, poured into Seattle's pubs during the hours before the match.
Not surprisingly, James Rafferty came to town with his wife, Carol, and several regulars from his Santa Barbara soccer bar, The Press Room. Rafferty, who grew up a few goalie kicks away from United's home pitch at Old Trafford, has journeyed to Moscow and Rome to see the boys play in European championships. His jaunt to Seattle was a no-brainer.
"Raf" was confident that Manchester would show good preseason form, but the outcome of the exhibition did not concern him. Later on, when they face Chelsea with Premier League points on the line, it will be nervous time in The Press Room. "This one is about getting together with your mates and having a good time," he said. One of Rafferty's mates was having too good a time on the eve of the match, and he impulsively pulled a flat-screen TV off the wall of a pub. It was quickly reinstalled by other mates.
Rafferty managed to meet and greet Sir Alex Ferguson, the revered manager of United, at the team's hotel. Seattleites were excited to have the world's second-best football club—relegated to that position by resplendent Barcelona—in their presence. But they were holding out hope that the Sounders, the hottest team in the MLS (8-0-3 record in their last 11 games), would be up to the task. Baseball's Mariners were mired in a miserable losing streak, and Seattle needed something to cheer about.
The home fans got themselves pumped up in their traditional "March to the Match." They gathered in Pioneer Square behind the Sound Wave, a 53-piece band, and paraded to CenturyLink (formerly known as Qwest Field in the ever-changing realm of corporate naming rights). With banners and flags flying, the green-clad Sounders fans congregated noisily in the south end of the stadium.
Alas, the only chant that had much punch during the match was "Ka-sey Kel-ler!"—a shout-out to the veteran Sounders goalkeeper whose five saves in the first half helped keep the score down to 1-0 in favor of United. In the second half, Seattle coach Sigi Schmid was all too magnanimous—he pulled Keller and most of the other starters to give his reserves a taste of big-time international football in front of a huge crowd—and the roof fell in. Led by lethal striker Wayne Rooney's hat trick, United scored almost at will and secured a 7-0 victory.
Michael Tetteh, a rookie who was drafted out of UCSB, was among the young Seattle players thrown to the Devils. Tetteh had scored two game-winning goals in the MLS Reserve League but had yet to play a regular-season game with the Sounders. He went onto the pitch as a left back in the 64th minute and found himself under attack from Gabriel Obertan, a speedy Frenchman who's trying to justify the $5 million transfer fee United paid to acquire him. It did not go well for Tetteh and the Sounders, who yielded four goals in the last 26 minutes.
Tetteh was thrilled to play against a club he'd idolized in his youth, but he did not attempt to exchange jerseys with United after the match. "I was too frustrated," he said. "I shook a few hands and walked off the field."
His dream would be to wear a United jersey of his own. "I love their style of play," Tetteh said a day after the match. "It was a difficult match for me personally and the team, but it was definitely a day I will never forget in my life. It was a learning process. It tells me how far our league and team have to go. I can moan and be sad, but that can't change anything.
"Since I started playing soccer, I've been one of the stars," said Tetteh, a native of Ghana who excelled at Dunn School in Los Olivos and as a three-year starter for UCSB's Gauchos. "This is a new chapter in my life. I need to learn and grow and be more mature. I'm grateful to be in such a good soccer town."
It was a town that inspired Manchester United to put on a bloody good show.