Arts & Entertainment
Peter Frampton at the Santa Barbara Bowl
Frampton Comes Alive 35 Tour Hits S.B. on Sunday, July 31.
On Sunday night, Peter Frampton proved that he was much more than a one-hit wonder while doing justice to the album that made him famous, Frampton Comes Alive! (or, as the singer/guitarist playfully refers to it, Me Comes Alive!). Mixing cuts from that album with more recent songs, some great instrumentals, and a handful of classic-rock covers, Frampton played for nearly two hours without a significant break, pleasing those who came to hear the hits and impressing the musicians in the crowd with his still-smoking guitar chops. As in the original concerts for the Comes Alive album back in 1975, Frampton got to the biggest hit, "Show Me the Way," early on. The guitar effect known as the "talk box" inevitably made its presence felt on several numbers, and Frampton demonstrated, particularly on a nearly instrumental version of Soundgarden's "Black Hole Sun" late in the show, that he knows how to have a laugh with it, as well as make beautiful music. He also showed us that the talk box gives an artist a great way to address the audience on such issues as posting YouTube videos.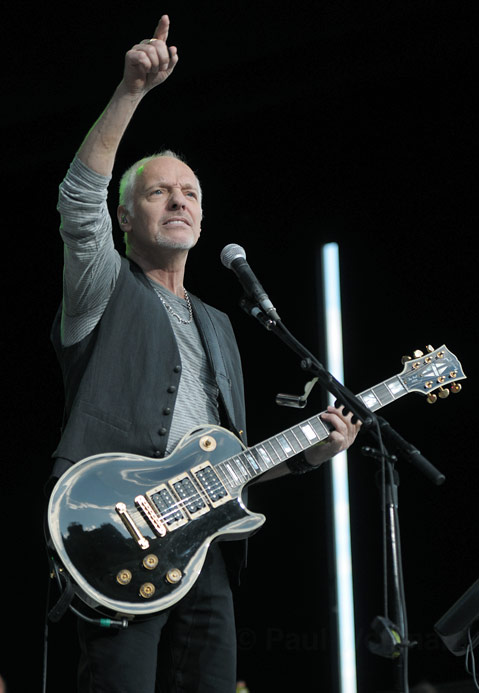 In between jokes about getting people seated and the fact that no one looks their age in California (at least according to Frampton), the band cranked through other favorites from Comes Alive, including "It's a Plain Shame." "All I Want to Be (Is By Your Side)" got two workouts—one acoustic and the other an eight-minute electric jam.
Of course, no Peter Frampton show would be complete without "Baby, I Love Your Way," a song that's destined to last as long as there's karaoke being sung. The hard-rocking "(I'll Give You) Money" encouraged Frampton and guitarist Adam Lester to duel their way into a splendid musical meltdown.
The audience was then given little rest as Frampton sang, "Woke up this morning with a wine glass in my hand," the memorable opening of "Do You Feel Like We Do?" Of course, then it wasn't long before everyone who wasn't shooting video or singing along was dancing. Frampton reminisced about long-gone days of drug-fueled intermissions that led to speedy second sets, then asked us all to "pretend we've gone offstage for a bit, and we'll give you encores starting now."
From there, we got still more Comes Alive, including "Shine On," "White Sugar," and an extended version of "Jumpin' Jack Flash." At this point, the band actually did take a short break before prowling back onstage under a projection of billowing flames, which, despite the fire reference, proved to be an effective prop in creating the advanced nighttime Bowl party atmosphere. Frampton played his legendary black Les Paul on several instrumentals from his Grammy-winning 2007 album, Fingerprints. And keyboardist Rob Arthur added lots of organ to these elegant, beautifully arranged jams.
Saving the best for last, Frampton took another stab at "All I Want to Be (Is By Your Side)" when both he and the band were fully warmed up, and this reprise version, with its haunting electric guitar solo, was the night's single most memorable tune. True to his classic-rock roots, Frampton swept through a rowdy Humble Pie number before closing with George Harrison's majestic "While My Guitar Gently Weeps."